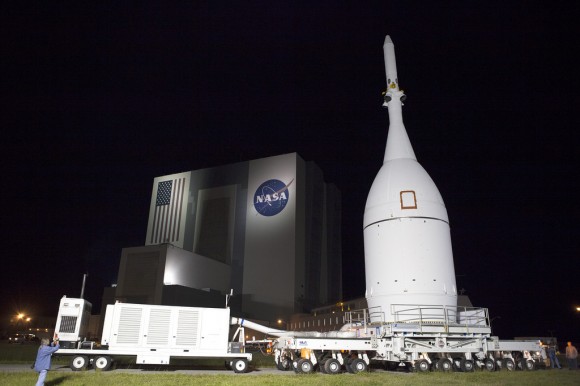 At NASA's Kennedy Space Center in Florida, the agency's Orion spacecraft pauses in front of the spaceport's iconic Vehicle Assembly Building as it is transported to Launch Complex 37 at Cape Canaveral Air Force Station. After arrival at the launch pad, United Launch Alliance engineers and technicians will lift Orion and mount it atop its Delta IV Heavy rocket.
Credit: NASA/Frankie Martin
After a decade of hard work, numerous twists and turns and ups and down, NASA's new Orion crew vehicle is finally and officially marching towards its maiden blastoff in less than two weeks time.
The Orion spacecraft cleared one of its final hurdles to its first launch when(…)
Read the rest of Orion Passes Key NASA Flight Review – "GO" for Maiden Test Flight on Dec. 4 (336 words)
---
© Ken Kremer for Universe Today, 2014. |
Permalink |
No comment |

Post tags: Delta IV Heavy rocket, EFT-1, kennedy space center, KSC, NASA, Orion crew module, Orion Crew Vehicle, Orion EFT-1, ULA

Feed enhanced by Better Feed from Ozh