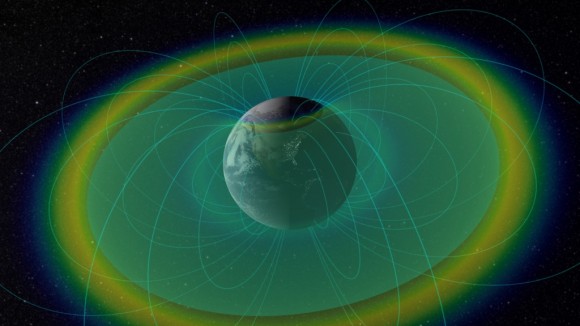 Visualization of the radiation belts with confined charged particles (blue & yellow) and plasmapause boundary (blue-green surface). Credit: NASA/Goddard
It's a well-known fact that Earth's ozone layer protects us from a great deal of the Sun's ultra-violet radiation. Were it not for this protective barrier around our planet, chances are our surface would be similar to the rugged and lifeless landscape we observe on Mars.
Beyond this barrier lies another – a series of shields formed by a layer of energetic charged particles that are held in place by the Earth's magnetic field. Known as the Van Allen radiation belts, this wall prevents the fastest, most energetic electrons from reaching Earth.
And according to new research from NASA's Van Allen probes, it now appears that these belts may be nearly impenetrable, a finding which could have serious implications for future space exploration and research.(…)
Read the rest of NASA's Van Allen Probes Spot Impenetrable Radiation Barrier in Space (942 words)
---
© mwill for Universe Today, 2014. |
Permalink |
No comment |

Post tags: Goddard Space Center, Johns Hopkins Applied Physics Laboratory, Living With a Star program, magnetosphere, NASA, plasmasphere, <a target="_blank" href="http://www.universetoday.com/tag/van-allen-belts/" —> Read More Here