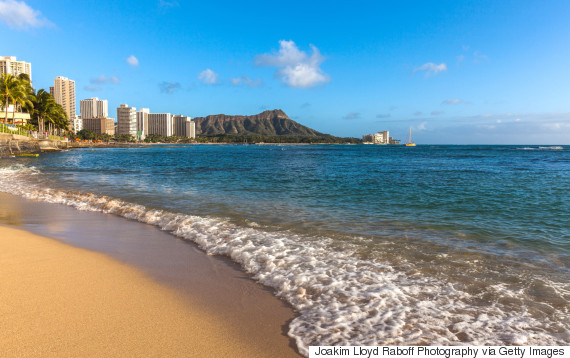 If you think there's not much beach space left in Waikiki right now, chances are it's going to be a lot worse in 35 years.
Scientists at the University of Hawaii's School of Ocean and Earth Sciences and Technology (SOEST) studied data from 10 retreating beaches on Oahu, Maui and Kauai islands and found that beaches will erode as much as 20 feet by 2050 and 40 feet by 2100.
The study, titled "Doubling Of Coastal Erosion Under Rising Sea Level By Mid-Century In Hawaii," was published this week in the journal "Natural Hazards."
"The average amount of shoreline recession roughly doubles by 2050 with increased sea level rise, compared to historical extrapolation alone," lead researcher Tiffany Anderson said in a statement. "Further, our results indicate that approximately 92 and 96 percent of the shorelines will be retreating by 2050 and 2100, respectively."
Waikiki Beach is entirely man-made, and naturally faces constant erosion.
SOEST defines beach erosion as a result occurring when waves take away more sand than they replenish.
"Beaches are temporary features," Assistant Professor Ken Rubin explained. "There is always sand being removed and sand being added to them. Often, they change drastically during the year, depending upon the frequency of storms."
More than 13 miles of Hawaiian beaches have eroded in the past century, according to the Associated Press, and about 70 percent currently experience chronic erosion today. Maintaining Hawaii's beaches against this problem is an expensive, ongoing project.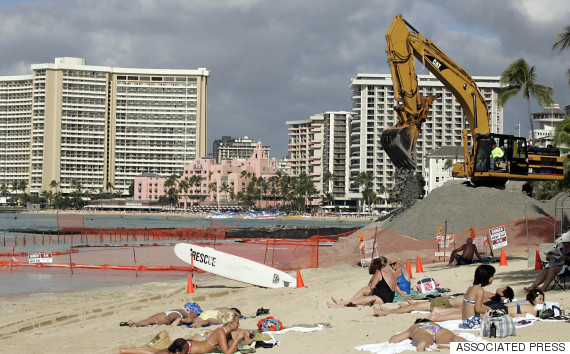 A backhoe dumps sand pumped from the ocean onto Kuhio Beach in 2006 to restore the beach from constant erosion.
Take Waikiki beach, for example, which is entirely man-made. In 2012, 27,000 cubic yards of sand was siphoned from offshore deposits, giving the beach 37 —> Read More