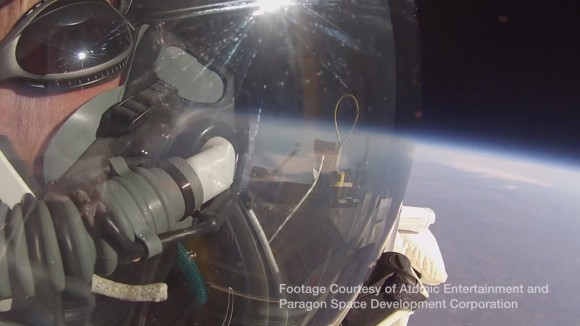 Google's Vice President of Search, Alan Eustace, has just smashed the altitude record for stratospheric skydiving. His liftoff was from Roswell, New Mexico, where the record was first set in 1961 by USAF Colonel Joseph Kittinger. Paragon Video link. (Credit: Paragon Space Development Corporation)
Just a little over two years since Felix Baumgartner broke USAF Colonel Joseph Kittinger's stratospheric jump record, Alan Eustace from Google has independently smashed the high altitude skydiving record again. This brings home to Silicon Valley a record that might stand for a while. Eustace took a minimalist approach to the jump. His setup involved a helium filled balloon and just him hanging from the balloon in a spacesuit. Pure and simple, this permitted his system to reach 135,890 feet above the Earth, over 41 kilometers altitude, exceeding Baumgartner's record by 7000 feet.
The simple design of his balloon launch might remind one of a bungy jump. How can anyone break that record? Can someone rise to a higher altitude? So what is next for the Google high flyers? Will Baumgartner take this as a challenge to retake the record?
(…)
Read the rest of Google Exec hands Silicon Valley the Stratospheric Jump Record (574 words)
---
© Tim Reyes —> Read More Here