250 Years of Planetary Detection in 60 Seconds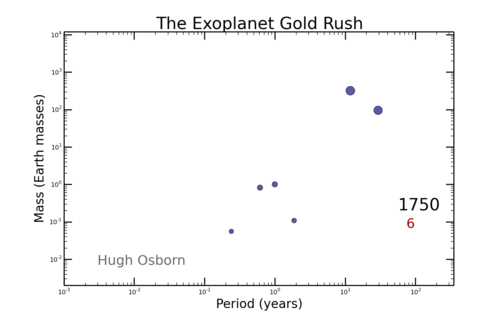 An animated history of planetary detection, from 1750 to 2015. It shows the period (x-axis), mass (y-axis), radius (circle size) and detection method (color) of the 1800 plus planets now known. Credit and copyright: Hugh Osborn.
Early astronomers realized some of the "stars" in the sky were planets in our Solar System, and really, only then did we realize Earth is a planet too. Now, we're finding planets around other stars, and thanks to the Kepler Space Telescope, we're able to find planets that are even smaller than Earth.
This great new graphic of the history of planetary detection was put together by Hugh Osborn, a PhD student at the University of Warwick, who works with data from the WASP (Wide Angle Search for Planets) and NGTS (Next Generation Transit Survey) telescope surveys to discover exoplanets. It starts with the first real "discovery' of a planet — Uranus in 1781 by William and Caroline Herschel.
(…)
Read the rest of 250 Years of Planetary Detection in 60 Seconds (638 words)
---
© nancy for Universe Today, 2015. |
Permalink |
One comment |

Post tags: exoplanets, Extra Solar Planets, Kepler, Microlensing, Radial —> Read More Here