4 Steps to Improve Ocean Conservation Research in Small Island States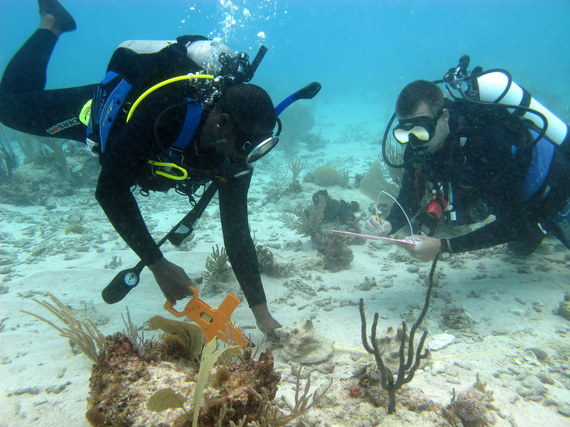 To be effective, marine conservation must be based on rigorous and targeted science. The large and growing threats to ocean ecosystems — overfishing, climate change, pollution, and habitat destruction — coupled with the limited scientific capacity of most small island states make science-based management not only an imperative, but also a challenge. Here's one part of the solution: better global collaboration between local and foreign scientists.
Barbudan fisheries staff member being trained by a foreign researcher to conduct conch surveys as part of the Waitt Institute's Blue Halo Initiative in Barbuda. (Photo courtesy of Waitt Institute.)
My colleagues and I present best practices for international scientific collaboration in an opinion paper published recently in the journal Frontiers in Marine Science. Our group of researchers from the Caribbean, Canada, the USA, and UK, examined the hurdles to effective collaborations for foreign and local scientists, institutions, and funders, and provides recommendations for leaping over them. Here are our four broad actionable recommendations:
1. Align priorities between foreign scientists and local communities: Foreign marine scientists sometimes enter small island states with ill-conceived notions of what the research priorities should be. Too often effort is not made to ask local scientists and institutions about their priorities and needs. Lack of alignment can result in data that is never used for management, or in tense working relationships. Sometimes highly specific research interests of foreign scientists are a distraction from core monitoring work that needs to be done. Locals need to know their research priorities and lobby for assistance with them, and foreigners need to inquire about and consider those priorities.
2. Build long-term collaborative relationships: Ocean conservation is a long game, best won by teammates who know and trust each other. Short-term, one-off projects are common and may not have much benefit if relationships are not —> Read More