5 Signs That Science Is Taking Over the World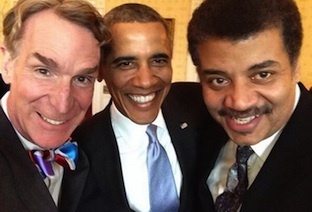 There are a number of telltale signs that a radical science movement is bubbling at the surface, waiting to erupt much like a volcano, or a teenager dry-humping Sofia Vergara. Here are some reasons to believe that science is invading all our homes and that total dominance is imminent. Luckily for all, it's looking like this is just the beginning.
1. President Obama recently created the BRAIN Initiative, a large-scale multi-lab effort whose aim is to map every cell in the human brain. In 2014, the National Institutes of Health awarded $46 million in funding to over 100 scientists with the goal of advancing brain imaging technology. Progress in this area may allow scientists to observe changes in the activity of individual neurons during real-world interaction.
The hopes are that the initiative can be the brain's equivalent of the highly successful Human Genome Project. It's projected to spend at least over 300 million dollars per year over a 10-year period, and you can bet it'll be worth every penny.
2. Google has appointed the brilliant inventor, futurist, and overall mad scientist Ray Kurzweil Director of Engineering. Kurzweil wants to see us transform ourselves into binary beings that transcend mortality, and —> Read More Here