7 Ways Apple's New Software Could Change Medical Research For The Better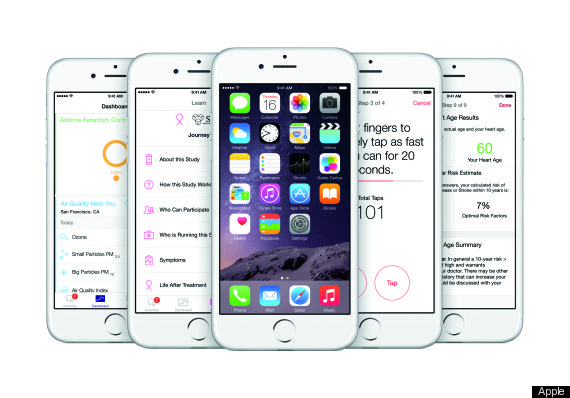 For many of us who have smartphones, tracking things like our steps, meals, sleep, medication, weight and menstruation has become second nature. And for researchers who rely on data like this to study everything from chronic disease to healthful lifestyles, all of that information has been going to waste for years, locked away in the proprietary data clouds of telecommunication companies.
But on March 9, Apple Senior Vice President of Operations Jeff Williams made waves in the scientific community with the announcement of his company's new open source iPhone software, ResearchKit. The software gives developers a platform for apps that collect health data and create programs that help users improve their health. But in addition to benefiting iPhone users who simply want to make sense of all the health data they're tracking, the new software gives researchers a platform to access the millions of bits of health data on users' iPhones.
You've heard of people donating their bodies to science once they're dead. ResearchKit can be viewed as a way to donate part of your life to science, too.
Research institutions like Stanford Medicine, UCLA's Jonsson Comprehensive Cancer Center, Icahn School of Medicine at Mount Sinai, Massachusetts General Hospital and University of Rochester signed up to create apps that feed discrete bits of your tracked health information into databases for specific research projects. One app, called the Parkinson mPower app, helps people with Parkinson's Disease track their symptoms by asking users to play games and complete dexterity exercises. Another, called the GlucoSuccess app, draws information from the data a person tracks about their diet, exercise and medicine to see how all of these different factors influence blood sugar levels. While none of that data is shared without a user's consent and people will have to opt-in to have their data —> Read More