A Million Business Cards Present a Math Challenge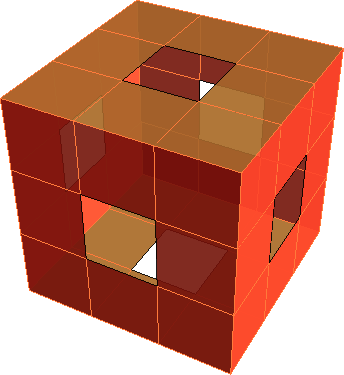 Have a math fan in the family or friend of the family? If so, check your wallet — not for money but for your business cards. Are they still there? If not, they may be part of a worldwide math challenge. Over the past month, people around the world have been building a mathematical structure out of more than a million business cards.
The construction teaches its own mathematical lesson, which is undoubtedly part of the point in the colossal math project dreamt up by Matt Parker (Queen Mary, University of London) and Laura Taalman (National Museum of Mathematics). The final sculpture is a Mega Menger, as it is known, which may be the largest fractal ever built. The fractal itself is known as a Menger Sponge. To make one, begin with a cube. Make 20 copies and place them as you see below.
This is a level one Menger Sponge. In 20 sites around the world, such constructions have been made with business cards. A single cube takes six business cards. Twenty such boxes complete a level one sponge. Twenty level one sponges placed in the same configuration as the boxes —> Read More Here