A Stunning Look at the Cliffs of Comet 67P/Churyumov-Gerasimenko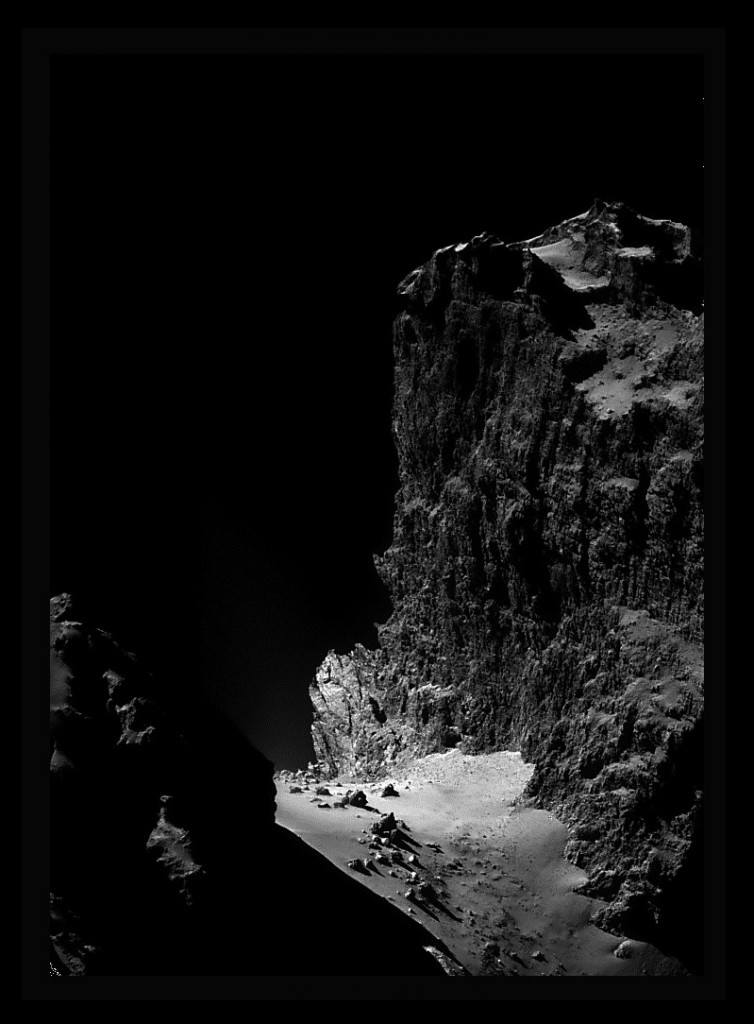 The Cliffs of Churyumov-Gerasimenko: an enhanced and procosessed crop of an image from Rosetta's navcam. Credits: ESA/Rosetta/NAVCAM, processing by Stuart Atkinson.
Images from space don't get more dramatic than this. Image processing wizard Stuart Atkinson zoomed in on one of the most intriguing views yet of Comet 67P/Churyumov-Gerasimenko, highlighting the contrasts of dark and light, smooth and rugged, soft contours and frighteningly vertical cliffs.
The orginal image, below, is a four-image mosaic made from images snapped by Rosetta's navigation camera, taken from a distance of 20.1 km from the center of Comet 67P/Churyumov-Gerasimenko on 10 December. The image resolution is 1.71 m/pixel and the individual 1024 x 1024 frames measure 1.75 km across. The mosaic is slightly cropped and measures 2.9 x 2.6 km.
(…)
Read the rest of A Stunning Look at the Cliffs of Comet 67P/Churyumov-Gerasimenko (54 words)
---
© nancy for Universe Today, 2014. |
Permalink |
No comment |

Post tags: Comet 67P/Churymov-Gerasimenko, esa, rosetta, Rosetta NAVCAM, Stuart Atkinson

Feed enhanced by Better Feed from Ozh