AAAS Scientists: Consensus on GMO Safety Firmer Than For Human-Induced Climate Change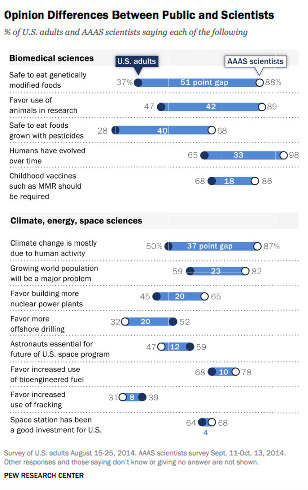 In sharp contrast to public views about GMOs, 89% of scientists believe genetically modified foods are safe.
That's the most eye-opening finding in a Pew Research Center study on science literacy, undertaken in cooperation with the American Association for the Advancement of Science (AAAS), and released on January 29.
The overwhelming scientific consensus exceeds the percentage of scientists, 88%, who think humans are mostly responsible for climate change. However, the public appears far more suspicious of scientific claims about GMO safety than they do about the consensus on global warming.
Some 57% of Americans say GM foods are unsafe and a startling 67% do not trust scientists, believing they don't understand the science behind GMOs. AAAS researchers blame poor reporting by mainstream scientists for the trust and literacy gaps.
The survey also contrasts sharply with a statement published earlier this week in a pay-for-play European journal by a group of anti-GMO scientists and activists, including Michael Hansen of the Center for Food Safety, and philosopher Vandana Shiva, claiming, "no scientific consensus on GMO safety."
A huge literacy gap between scientists and the public on biotechnology is one of the many disturbing nuggets that emerged from the Pew Research Center survey, which —> Read More Here