Amazingly Detailed New Maps of Asteroid Vesta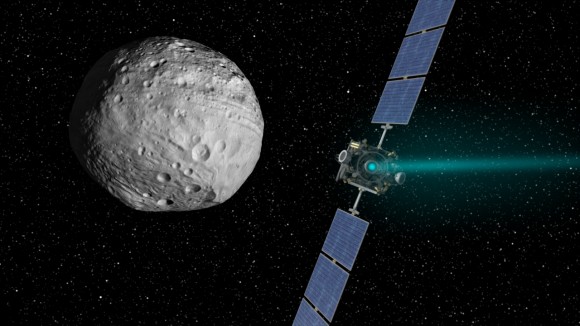 Artist's concept of the Dawn spacecraft arriving at Vesta. Credit: NASA/JPL-Caltech
Vesta is one of the largest asteroids in the Solar System. Comprising 9% of the mass in the Asteroid Belt, it is second in size only to the dwarf-planet Ceres. And now, thanks to data obtained by NASA's Dawn spacecraft, Vesta's surface has been mapped out in unprecedented detail.
These high-resolution geological maps reveal the variety of Vesta's surface features and provide a window into the asteroid's history.
"The geologic mapping campaign at Vesta took about two-and-a-half years to complete, and the resulting maps enabled us to recognize a geologic timescale of Vesta for comparison to other planets," said David Williams of Arizona State University.
(…)
Read the rest of Amazingly Detailed New Maps of Asteroid Vesta (583 words)
---
© mwill for Universe Today, 2014. |
Permalink |
No comment |

Post tags: asteroid, asteroid belt, ceres, Dawn mission, drawf-planet, esa, NASA, Rheasilvia, Veneneia, vesta

Feed enhanced by Better Feed from Ozh