American Nobel Laureates Feted at the 'Oscars' of DC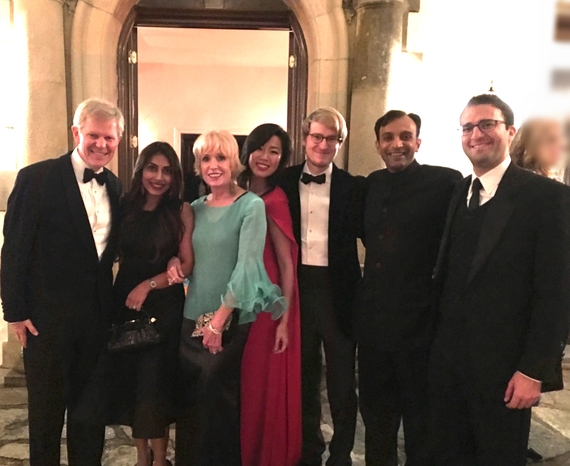 Our nation's capital had the honor of feting the four American Nobel Laureates before they head to Oslo for the official celebration: Dr. William C. Campbell (Medicine), Dr. Aziz Sancar and Dr. Paul L. Modrich (Chemistry), and Dr. Angus Deaton (Economics). The Laureates and their families had a big day in fine tradition: first, a symposium at The House of Sweden where they explained (or more accurately, made their first of many attempts at explaining) the work for which they were awarded the prize. You'd never think that a Nobel Laureate would struggle with anything, but struggle they did… simplifying 40, 50, 60+ year careers down to three minutes is not easy! But, as our host, Ambassador, H.E. Björn Lyrvall said, this is only a practice round before the Laureates give their full lectures in early December. And it was a practice round for all those in the audience as well, to help us learn what it takes to be a Nobel Laureate and how their achievements impact our society.
The Ambassador of Sweden H.E. Björn Lyrvall, IFE Digital Ambassador Devika Patil, IFE Founder & CEO Coach Kathy Kemper, IFE Fellow Joanne Ke, IFE Distinguished Fellow The Honorable Dr. R. David Edelman, US First Chief Data Scientist DJ Patil and co-host of CNBC's Make Me a Millionaire Inventor George Zaidan.
Then the Nobels all met with President Obama in The Oval Office, where they discussed their work and the situation of science and research in the U.S. Finally, they ended the day at a sumptuous black tie dinner hosted by the Swedish Ambassador, H.E. Björn Lyrvall, and the Norwegian Ambassador, H.E. Kåre R. Aas at the stately Swedish Residence. At the dinner, which all consider to be the OSCARS of DC, the Laureates poked fun at themselves and each other, but —> Read More