Ancient Grave In Siberia Yields Earliest Example Of Twins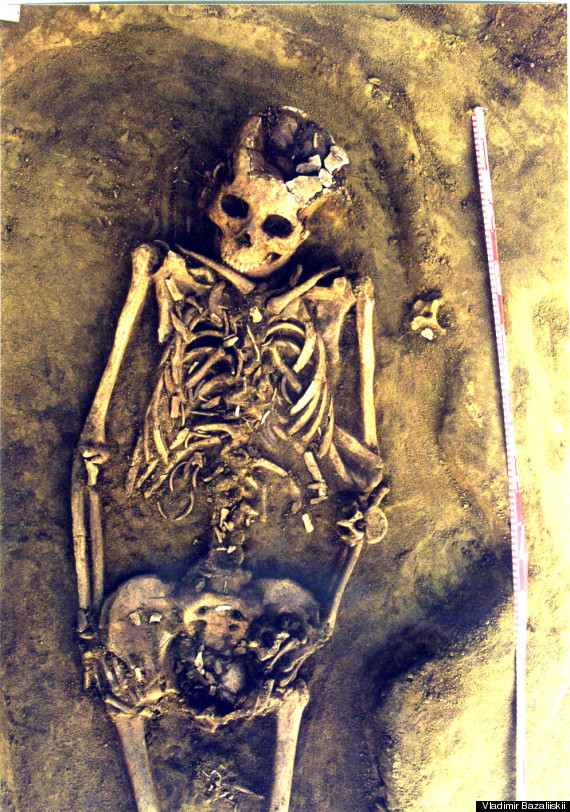 An ancient tragedy is shining new light on life in the Neolithic Era, as archaeologists have uncovered the remains of a woman who appears to have died with her twins during childbirth nearly 8,000 years ago.
It's the oldest example of death by dystocia, or obstructed labor, and the earliest known example of twins on the archaeological record, researchers wrote in an article describing the discovery, published in the Feb. issue of the journal Antiquity.
Story continues below image.
What makes the discovery so remarkable is that while twins must have been around in prehistoric times, there's almost no direct evidence of them.
The new discovery changes that.
The remains, which are between 7,630 and 7,725 years old, were found at a prehistoric cemetery called Lokomotiv, near present-day Irkutsk in Russia. While the woman's remains were uncovered in 1997, it was believed at the time that she had died with a single child.
But a recent reexamination found a second set of bones in the pelvic region.
"Within five minutes, I said to my colleague, 'Oh my gosh; these are twins,'" Dr. Angela Lieverse, an archaeologist at the University of Saskatchewan in Canada and one of —> Read More Here