Announcing the 2015 Got Science? Champions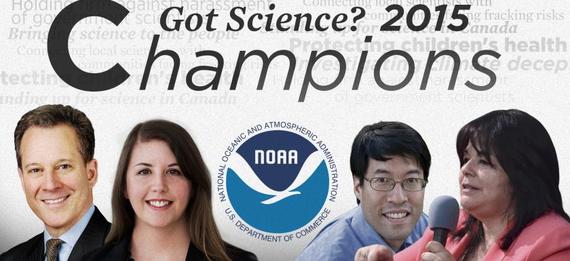 At the Union of Concerned Scientists, we are inspired by our annual Got Science? Champions, whose passion for the truth exceeds their fear of censure or political unpopularity. In honor of their courage and commitment, we're excited to announce 2015's winners. These five champions stood up for science and stood out among their peers, spreading scientific facts in service of the public good.
Eric Schneiderman: Investigating decades of climate deception
The Union of Concerned Scientists has worked for years to expose campaigns funded by major fossil fuel companies that deliberately mislead the public about climate change. This year, as we brought more information on such deception to light, New York's attorney general Eric Schneiderman took a bold step toward holding one of these companies legally accountable. In November, his office subpoenaed decades of correspondence and financial records from ExxonMobil, launching an investigation into whether ExxonMobil knowingly deceived its shareholders on the risks to their investments from climate change, and the public by financing climate change-denying lobbying groups.
Schneiderman's investigation marks an important first move toward holding the company responsible for its known efforts to fund third-party climate denial–campaigns with disastrous consequences for the climate and people worldwide. His courageous move on Big Oil may be the first handful of a rapidly accelerating snowball.
Katie Gibbs: Spotlighting science in Canadian democracy
For the last ten years, journalists chasing a good science story in Canada had to ask the government for permission to speak with scientists. Frequently, these requests would be denied, and scientists forbidden to discuss their own research. Katie Gibbs, co-founder and executive director of the Canadian nonprofit Evidence for Democracy, began keeping a record of these incidents, as well as funding cuts, program closures, and anti-science policy decisions across Canada–and her organization became a powerful voice —> Read More