Antares Explosion Investigation Focuses on First Stage Propulsion Failure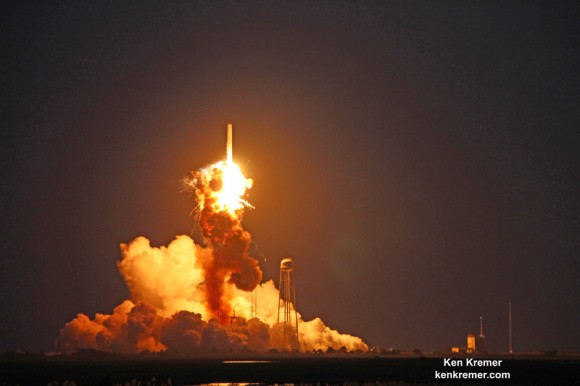 First stage propulsion system at base of Orbital Sciences Antares rocket appears to explode moments after blastoff from NASA's Wallops Flight Facility, VA, on Oct. 28, 2014, at 6:22 p.m. Credit: Ken Kremer – kenkremer.com
NASA WALLOPS FLIGHT FACILITY, VA – Investigators probing the Antares launch disaster are focusing on clues pointing to a failure in the first stage propulsion system that resulted in a loss of thrust and explosive mid-air destruction of the commercial rocket moments after liftoff from NASA's Wallops Flight Facility, VA, at 6:22 p.m. EDT on Tuesday, October 28.
The highly anticipated first night launch of the Orbital Sciences Corp. privately developed Antares rocket blasted off nominally and ascended for about 15 seconds until a(…)
Read the rest of Antares Explosion Investigation Focuses on First Stage Propulsion Failure (1,132 words)
---
© Ken Kremer for Universe Today, 2014. |
Permalink |
No comment |

Post tags: Antares rocket, Antares rocket explosion, Commercial Space, Cygnus cargo vessel, Frank Culbertson, ISS, NASA, NASA Wallops, Orb-3, orbital sciences corp.

Feed enhanced by Better Feed from Ozh