Anti-GMO Groups Pledge Legal Action to Block FDA Approval of GMO Salmon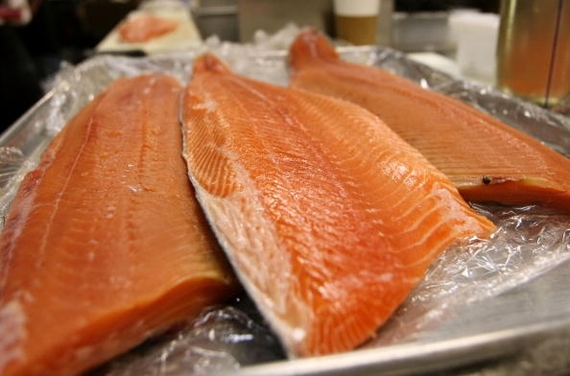 The first genetically engineered animal approved for consumption could be on your dinner table within two years if anti-GMO groups do not succeed in their attempts to block it.
After languishing in regulatory purgatory for almost 20 years, an Atlantic salmon whose genes have been tweaked to grow twice as fast and on less food as farm-raised conventional varieties, was
"The FDA has thoroughly analyzed and evaluated the data and information submitted by AquaBounty Technologies regarding AquAdvantage Salmon and determined that they have met the regulatory requirements for approval, including that food from the fish is safe to eat," said Bernadette Dunham, D.V.M., Ph.D., director of the FDA's Center for Veterinary Medicine, in a statement.
"I am thrilled by the FDA action, and look forward to bringing AquAdvanage salmon to the market, The approval is a milestone for American science, and I believe will introduce the American consumer to a safe and sustainable salmon food product," Ronald Stotish, AquaBounty CEO, told me. The company issued a news news release, saying the fish is grown in an "environmentally responsible manner without damaging the ocean and other marine habitats."AquaAdvantage-salmon

AquaBounty, producer of the AquAdvantage salmon, told me it will not put a special label designating it as genetically engineered. "We'd like to label it as a premium product, but we'll probably introduce it as 'Atlantic salmon,'" Stotish said. It its statement, the FDA also announced draft guidance on the voluntary labelling of food derived from the product.
The approval was welcome by most mainstream scientists but kicked off a firestorm of criticism by longtime critics of agricultural biotechnology, who had swamped the Internet over the years with cartoonish picture and stories warning of an invasion of Frankenfish.
"I view the announcement of the FDA to approve the AquaBounty —> Read More