Arrested Memory – 'Justice Is Mind'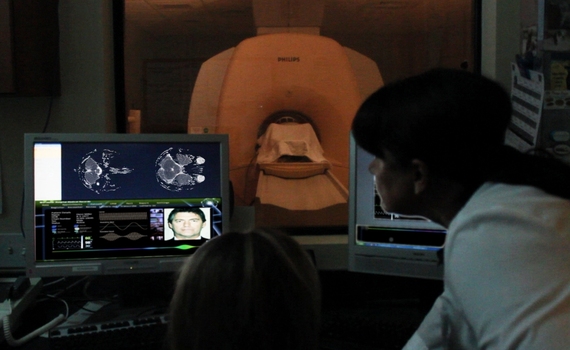 No, this isn't a story about the tragedy of Alzheimer's Disease, it's about your own memories being used as evidence against you in a court of law. Science fiction? I thought so, but not anymore.
In the 2013 feature film
(Justice Is Mind – The fvMRI process begins)
I was first introduced to Justice Is Mind and writer/director Mark Lund by Mary Wexler, a mutual friend and the movie's Judge Wagner. Lund's vision of a near future came to him during a 2009 episode of 60 Minutes entitled Reading Your Mind. Its focus on 'thought identification' using advanced fMRI techniques which are currently being developed at Carnegie Mellon University, led Lund to create a film that explores the complex legal and ethical issues surrounding neuroscience in the courtroom.

(Justice Is Mind – motion hearing)
When Lund first saw what Dr. Marcel Just (D.O. Hebb University Professor of Psychology in the Dietrich College of Humanities and Social Sciences) and his Carnegie Mellon team were working on, "The idea for Justice Is Mind came to me literally before the program was over. Imagine facing your own memory at trial."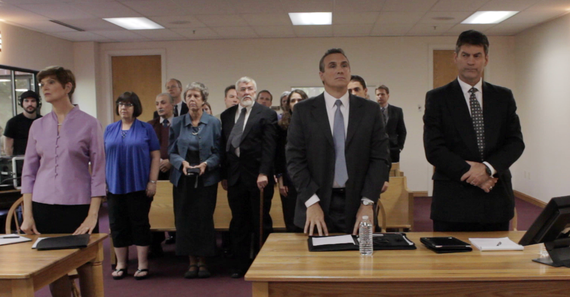 (Justice Is Mind – the trial begins)
Carnegie Mellon is not alone in this. Scientists at UC Berkeley claimed an astounding breakthrough in 2011 by generating moving pictures from decoded brain signals.
Research into the advancement of brain studies was thrust into the spotlight in 2014 when the Obama Administration launched the Brain Initiative with initial federal commitments of over $100 million. With those commitments now exceeding $300 million in the program's second year, and with government agencies like DARPA (Defense Advanced Research Projects Agency) picking up some of the bill, suddenly Justice Is Mind takes —> Read More