As Cost Of Renewables Falls, Large-Scale Hydropower Seen As A Risky Bet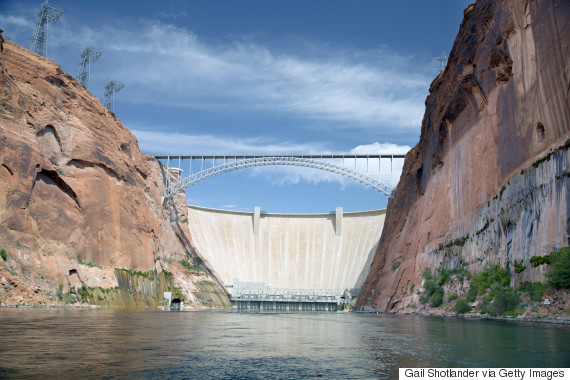 This story originally appeared on Climate Central.
As investments in wind and solar power climb, backing major hydropower projects may be seen as a risky bet in a warming world, as studies show that reservoirs may be major sources of methane emissions and climate change itself could make rain and snowfall less certain in some regions.
An indicator of where renewables investors are focusing their attention, large hydropower was left out of a major United Nations and Bloomberg report published this week showing that global investments in renewables spiked 17 percent in 2014.
The Glen Canyon Dam on the Colorado River in Arizona.
Last year, as costs for wind and solar projects fell and investors saw their potential for reducing greenhouse gas emissions, investments in wind, solar, biomass, geothermal, and small hydropower projects totaled about $270 billion in 2014, up from $231 billion in 2013, according to the report.
Those numbers exclude investments in major hydropower projects — along the lines of the Hoover Dam on the Colorado River or the giant Three Gorges Dam built recently on the Yangtze River in China — that can generate more than 50 megawatts of electricity.
Yet hydropower figures prominently in how some states and countries are addressing climate change by reducing their dependency on fossil fuels. Costa Rica, for example, announced recently that all of its electricity will be renewable in 2015 thanks in large part to hydropower. In the U.S., which gets 6 percent of its electricity from hydro, Burlington, Vt., announced it would be fully running on renewables in 2015 after buying a hydropower plant last year. 2014 also saw the commissioning of the 13.9-gigawatt Xiluodu hydropower project in China, and other large hydro projects were financed in Angola, Costa —> Read More