Astrophotos: Views of the Geminid Meteor Shower from Around the World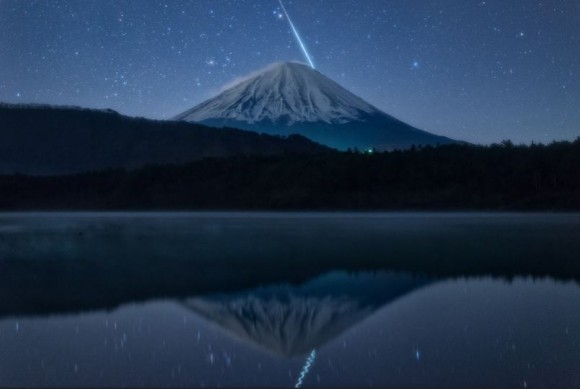 A stunning moment captured as a Geminid meteor over Mt. Fuji is reflected in Lake Saiko on December 14, 2014. Credit and copyright: Yuga Kurita.
It's nice to know that not everyone around the world was plagued by clouds, dense fog, driving rain and snowstorms like we had in Minnesota during this year's Geminid Meteor Shower (and all that was within one 24-hour period). In fact, some astrophotographers were able to capture some stunning views of the Geminids, like this absolutely gorgeous shot of a meteor over Mt. Fuji in Japan.
"I've captured Fuji with meteors many times in the past," said photographer Yuga Kurita. "So I went ambitious this time. I tried to capture Fuji and a meteor reflected in Lake Saiko with a standard focal length lens. When I saw this meteor, I was absolutely stunned."
See more Geminids from around the world, below:
(…)
Read the rest of Astrophotos: Views of the Geminid Meteor Shower from Around the World (537 words)
---
© nancy for Universe Today, 2014. |
Permalink |
No comment |

Post tags: 2014 geminids, geminid meteor shower

Feed enhanced by Better Feed from Ozh