Bee Experts Dismantle Touted 'Harvard' Neonics-Colony Collapse Disorder Study As 'Activist Science'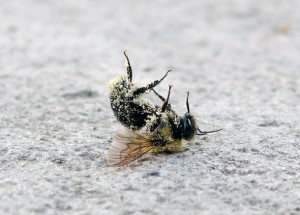 Chensheng Lu was in his element last month at a
Lu is convinced, unequivocally, that a popular pesticide hailed by many scientists as a less toxic replacement for farm chemicals proven to be far more dangerous to humans and the environment is actually a killer in its own right.
"We demonstrated that neonicotinoids are highly likely to be responsible for triggering Colony Collapse Disorder in bee hives," claimed Lu. The future of our food system and public health, he said, hangs in the balance.
Lu is the Dr. Doom of bees. According to the nutritionist — but not clear to most other experts in the field — colony collapse disorder (CCD), which first emerged in 2006, can be directly linked to "neonics," as the now controversial class of pesticides is often called, and also to genetically modified crops. Phased in during the 1990s, neonics are most often used by farmers to control unwanted crop pests. They are coated on seeds, which then produce plants that systemically fight pests.
To many environmental activists, the pesticide does more harm than good, and they've found their champion in Chensheng Lu. It's been a busy fall for the professor, jetting back and forth between Boston and Washington, —> Read More Here