Bill Nye Says Belichick's 'Deflategate' Explanation Doesn't Make Any Sense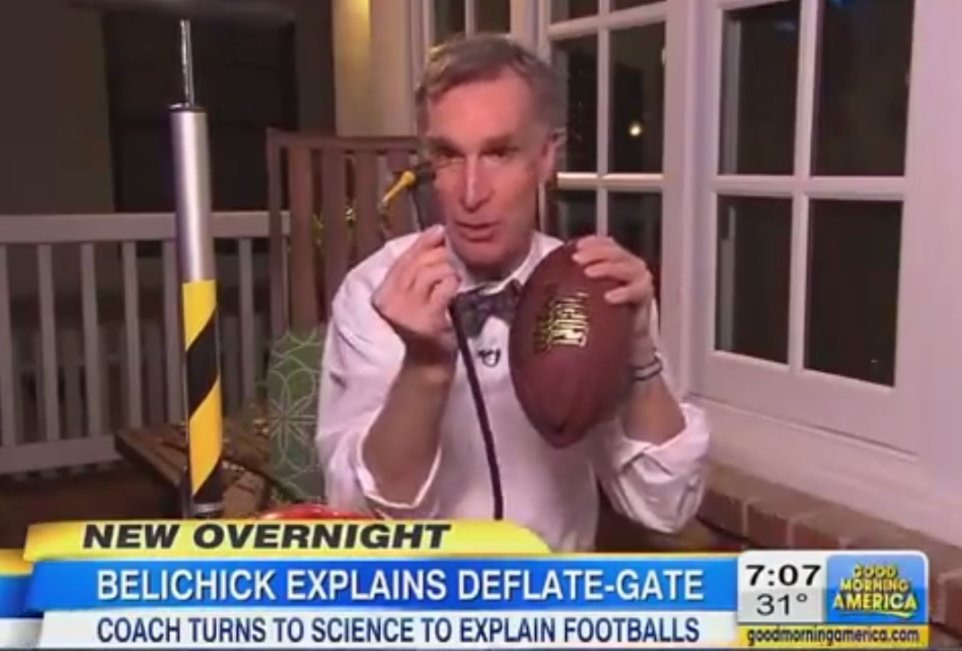 Count Bill Nye among those who aren't buying the scientific explanations Bill Belichick is cooking.
"The Science Guy" told "Good Morning America" on Sunday that the New England Patriots coach's recent explanation for why the team's footballs were under-inflated during the AFC Championship Game "didnt make any sense."
"I'm not too worried about coach Belichick competing with me," Nye said, referring to the Internet dubbing Belichick "the science guy" after the coach's complicated Saturday press conference. "What he said didn't make any sense."
Belichick said during the press conference that after carefully studying the issue, he had concluded that his team acted in accordance with NFL guidelines.
Belichick blamed the deflation of the team's footballs on factors including "atmospheric conditions" and the team's process of rubbing footballs before the game to wear them in, per the preference of the team's quarterbacks.
But Nye, for one, wasn't buying the idea that a little rubbing can deflate the football in any significant way.
"Rubbing the football — I don't think you can change the pressure," Nye said. "To really change the pressure, you need one of these, the inflation needle."
Bill Nye told "Good Morning America" on Sunday that New England Patriots coach Bill —> Read More Here