Bizarre Mars: Did Lava Bubbles Wrinkle This Giant Circle?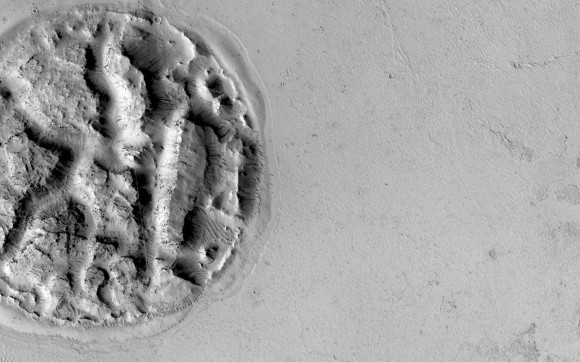 The Mars Reconnaissance Orbiter took this image of a "circular feature" estimated to be 1.2 miles (2 kilometers) in diameter. Picture released in December 2014. Credit: NASA/JPL-Caltech/University of Arizona
NASA is puzzled by this "enigmatic landform" caught on camera by one of its Mars orbiters, but looking around the region provides some possible clues. This 1.2-mile (2-kilometer) feature is surrounded by relatively young lava flows, so they suspect that it could be some kind of volcanism in the Athabasca area that created this rippled surface.
(…)
Read the rest of Bizarre Mars: Did Lava Bubbles Wrinkle This Giant Circle? (268 words)
---
© Elizabeth Howell for Universe Today, 2014. |
Permalink |
No comment |

Post tags: HiRISE, mars reconnaissance orbiter, University of Arizona

Feed enhanced by Better Feed from Ozh