Building A Space Base, Part 1: Why Mine On The Moon Or An Asteroid?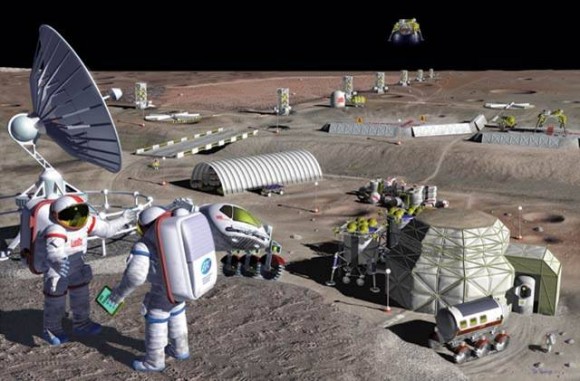 Building a lunar base might be easier if astronauts could harvest local materials for the construction, and life support in general. Credit: NASA/Pat Rawlings
So can we get off of Earth already and start building bases on the Moon or an asteroid? As highlighted in a recent Office of Science and Technology Policy blog post, one way to do that quickly could be to use resources on site. But how do we even get started? Can we afford to do it now, in this tough economic climate?
Universe Today spoke with Philip Metzger, a senior research physicist at NASA's Kennedy Space Center, who has explored this subject extensively on his website and in published papers. He argues that to do space this way would be similar to how the pilgrims explored North America. In the first of a three-part series, he outlines the rationale and the first steps to making it there.
(…)
Read the rest of Building A Space Base, Part 1: Why Mine On The Moon Or An Asteroid? (1,566 words)
---
© Elizabeth Howell for Universe Today, 2014. |
Permalink |
No comment |

Post tags: philip metzger

Feed enhanced by Better Feed from <a target="_blank" —> Read More Here