By Boots or Bots? How Shall We Explore?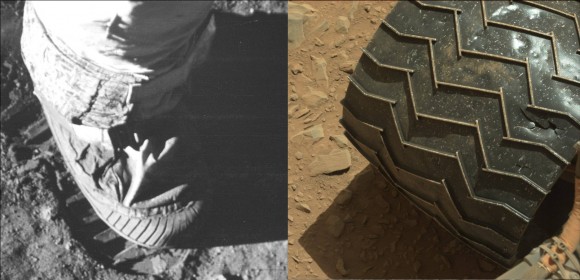 Over forty years separate the step made by an Apollo astronaut and the cleated wheel of the Curiosity Rover on Mars. (Photo Credits: NASA)
With robotic spacecraft, we have explored, discovered and expanded our understanding of the Solar System and the Universe at large. Our five senses have long since reached their limits and cannot reveal the presence of new objects or properties without the assistance of extraordinary sensors and optics. Data is returned and is transformed into a format that humans can interpret.
Humans remain confined to low-Earth orbit and forty-three years have passed since humans last escaped the bonds of Earth's gravity. NASA's budget is divided between human endeavors and robotic and each year there is a struggle to find balance between development of software and hardware to launch humans or carry robotic surrogates. Year after year, humans continue to advance robotic capabilities and artificial intelligence (A.I.), and with each passing year, it becomes less clear how we will fit ourselves into the future exploration of the Solar System and beyond.
(…)
Read the rest of By Boots or Bots? How Shall We Explore? (2,508 words)
---
© Tim Reyes for Universe Today, 2015. |
Permalink |
No comment |

Post tags: <a target="_blank" —> Read More Here