Byrd 1933: The Importance of Documentary Film in the History of Scientific Exploration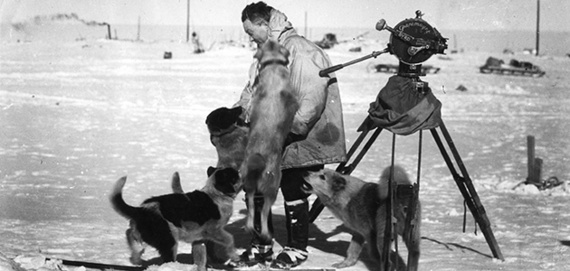 Admiral Richard E. Byrd in Antarctica during his second expedition 1933-1935. Courtesy of BPCRC.
In 1985, the Polar Research Institute at the Ohio State University made a successful bid to acquire the archives of noted polar explorer Admiral Richard E. Byrd (for more about Admiral Byrd, please see accompanying article, "Mysteries in Ice," here). OSU and the Institute, now renamed the Byrd Polar and Climate Research Center, received a grant from the U.S. Department of Education for the processing of the Byrd archive, which took place over a two-year period from November 1, 1992 through October 31, 1994.
Contained within the archives, which before their acquisition by Ohio State had been housed in varying locations, among them several warehouses and a barn — environments not conducive to preservation — were reels of acetate and nitrate film, including 28 reels containing Byrd's Discovery Lecture Film Series.
After copious analysis by a film intern from New York University, only 10 of the reels were deemed salvageable. With a generous grant from the National Film Preservation Foundation, those reels were restored for the archive.
With the restoration of those remaining 10 reels, and the Byrd Center having hired filmmaker and artist Pamela Theodotou as their media specialist, in seeing what the Center had in the remaining reels from the Discovery Lecture Film Series, it became apparent to Theodotou that there was enough content to piece back together one of Admiral Byrd's most famous expeditions to Antarctica, which took place between 1933-1935.
"I only became aware of the archive films when Laura Kissel, the Byrd Center's Polar Archivist, won the grant from the National Film Preservation Foundation, just after starting my work there," says Theodotou. "I knew the footage had to be extraordinary if —> Read More