Can Philae Power Up After Doing A Triple Comet Landing Into Shadowy Spot?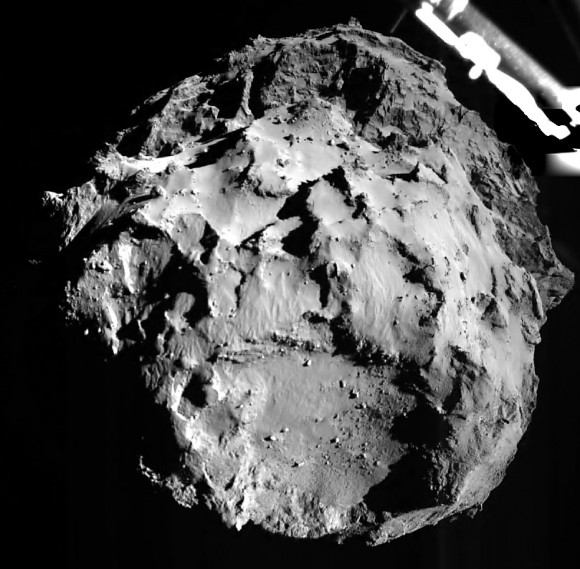 First photo released of Comet 67P/C-G taken by Philae during its descent. The view is just 1.8 miles above the comet. Credit: ESA
There's power problems looming for the Philae probe after it made not one, not two, but three landings on 67P/Churyumov–Gerasimenko this Wednesday. The primary battery that the lander is using right now for its primary mission (a few days) is expected to run out in less than a day. As for surface comet observations for the next several months … that's now in doubt.
Philae was supposed to touch down in a spot that provided seven hours of illumination per day on the comet (with a "day" there being 12.4 hours). But after doing a hop, skip and leap on the surface, the lander is now nestled in a spot that provides only 1.5 hours of sunlight daily to recharge the solar panels. "There is an impact on the energy budget to conduct science for a longer period of time," the European Space Agency warned in a blog post.
(…)
Read the rest of Can Philae Power Up After Doing A Triple Comet Landing Into Shadowy Spot? (327 words)
---
© Elizabeth Howell for Universe Today, 2014. |
Permalink —> Read More Here