Children Are More Likely To Survive Ebola, And Now Scientists May Know Why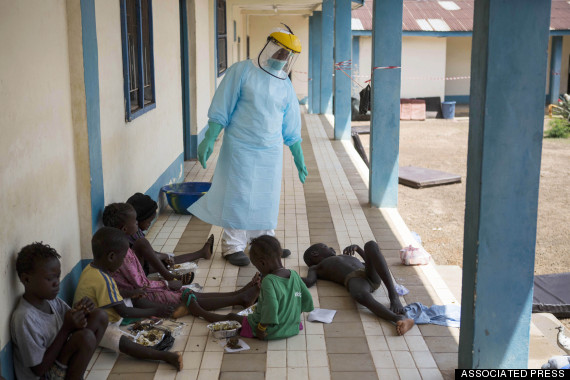 A new study examining a previous outbreak of Ebola in Uganda offers the first clues as to why children appear to be better than adults at fighting off the Ebola virus.
Earlier research from the Uganda outbreak, which took place from 2000-2001, and a more recent study from the current outbreak analyzing data from a Sierra Leone hospital, have both suggested that children are more likely to survive the virus than adults. Now, a study recently published in the medical journal Emerging Infectious Diseases is exploring why that might be the case.
A health official dressed in protective gear examines children suffering from Ebola at Makeni Arab Holding Centre in Makeni, Sierra Leone. (AP Photo/Tanya Bindra)
The study was published in October and focuses on the Uganda outbreak, which resulted in 425 Ebola cases, 145 of which were patients aged 21 or under. Until the 2014 outbreak, this was the largest proportion of pediatric patients ever seen in an Ebola epidemic. Of the lab-confirmed cases in this episode, 53 percent of the general population died, while only 40 percent of children and teens died.
There are a number of contributing factors that —> Read More Here