Comet Finlay Surprise Outburst, Visible in Binoculars … again!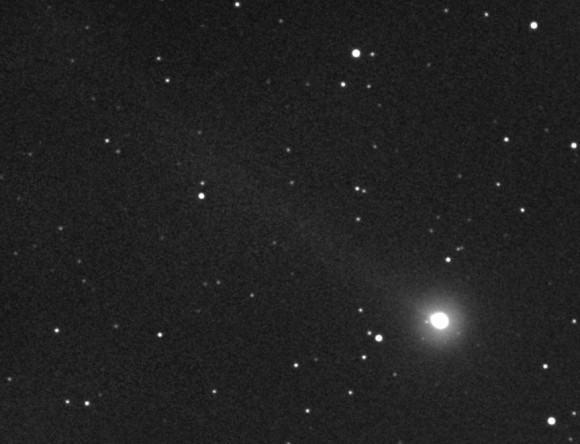 Comet Finlay's up to its old shenanigans again. Here we see it in outburst on the evening (CST) of January 16th. Credit: Michael Mattiazzo
Lost sleep at night, fingers tapping on the keyboard by day. Darn comets are keeping me busy! But of course that's a good problem. Comet 15P/Finlay, which had been languishing in the western sky at dusk at magnitude +10, has suddenly come to life … for a second time.
Two nights ago, Australian comet observer Michael Mattiazzo took a routine picture of Finlay and discovered it at magnitude +8. Today it's a magnitude brighter and now joins Comet Lovejoy as the second binocular comet of 2015. Comet-wise, we've gone from zero to 60 and the new year's fewer than 3 weeks old!(…)
Read the rest of Comet Finlay Surprise Outburst, Visible in Binoculars … again! (382 words)
---
© Bob King for Universe Today, 2015. |
Permalink |
No comment |

Post tags: 15P, Comet Finlay, Comet Q2 Lovejoy, outburst

Feed enhanced by Better Feed from Ozh