Comet Lovejoy Now at its Brightest: Images from Around the World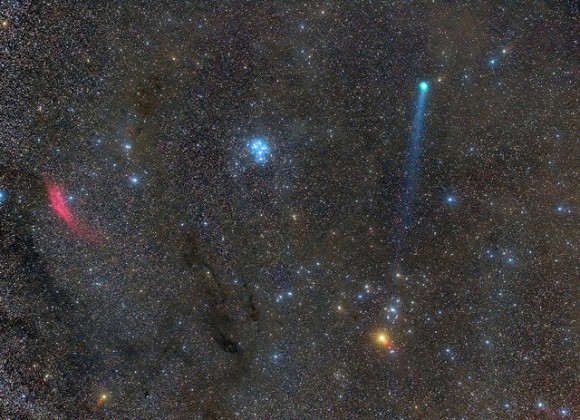 C/2014 Q2 Lovejoy comet passing over perseus and Taurus molecular cloud forming a triangle with the California Nebula (the red nebula on the left), the M45 Pleaides and Hyades in Taurus. Taken on January 14, 2015 from Pragelato, Turin, Italy. Credit and copyright: Leonardo Orazi.
Last night was the first time I was able to spot Comet Lovejoy with unaided eyes. The latest images from our readers and dedicated astrophotographers confirm that now is a good time to see the comet, which is reaching maximum brightness at his week. Spaceweather.com reports that many experienced observers say the comet is now shining at magnitude +3.8. With clear, dark skies C/2104 Q2 is easily seen with binoculars.
Enjoy this gallery of recent images, and if you've taken an image, consider joining our Flickr pool and submitting it. We may use your image in an upcoming article!
Comet Lovejoy C/2104 Q2 cruising past the open star Cluster M45 "Pleiades" or "The Seven Sisters." Credit and copyright: John Chumack.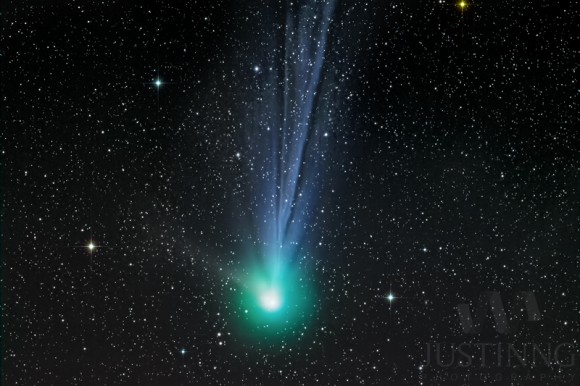 Comet Lovejoy taken on January 15, 2015 from Singapore. Credit and copyright: Justin Ng.
<a target="_blank"
—> Read More Here