Communicating Across the Cosmos, Part 2: Petabytes from the Stars?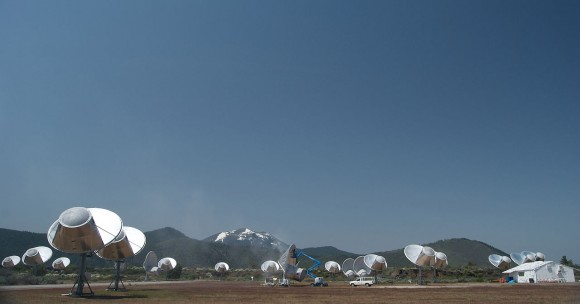 The Allen Telescope Array is the first radio telescope designed specifically for SETI Photo by Colby Gutierrez-Kraybill
Since it was founded in 1984, the SETI (Search for Extraterrestrial Intelligence) Institute in Mountain View, California has been a principle American venue for scientific efforts to discover evidence of extraterrestrial civilizations. In mid-November, the institute sponsored a conference; 'Communicating across the Cosmos' on the problems of devising and understanding messages from other worlds. The conference drew 17 speakers from numerous disciplines, including linguistics, anthropology, archeology, mathematics, cognitive science, philosophy, radio astronomy, and art.
This is the second of four installments of a report on the conference. Today, we'll look at the SETI Institute's current efforts to find an extraterrestrial message, and some of their future plans. If they find something, just how much information can we expect to receive? How much can we send?
(…)
Read the rest of Communicating Across the Cosmos, Part 2: Petabytes from the Stars? (1,406 words)
---
© Paul Patton for Universe Today, 2014. |
Permalink |
No comment |

Post tags: Allen Telescope Array, Radio Astronomy, SETI, SETI Institute, Square Kilometer Array

Feed —> Read More Here