Compromises Lead to Climate Change Deal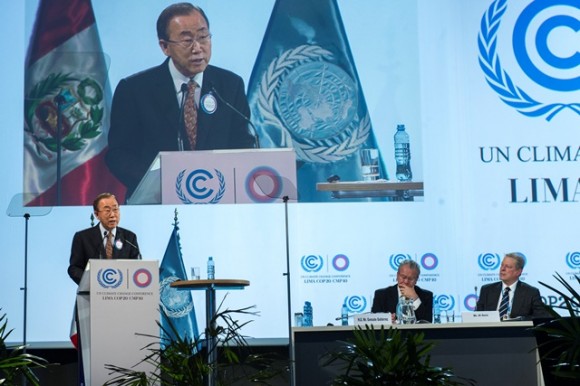 Secretary-General Addresses Lima Climate Action High-level Meeting.
Credit: UN Photo/Mark Garten
Earlier this month, delegates from the various states that make up the UN met in Lima, Peru to agree on a framework for the Climate Change Conference that is scheduled to take place in Paris next year. For over two weeks, representatives debated and discussed the issue, which at times became hotly contested and divisive.
In the end, a compromise was reached between rich and developing nations, which found themselves on opposite sides for much of the proceedings.
And while few member states walked away feeling they had received all they wanted, many expressed that the meeting was an important step on the road to the 2015 Climate Change Conference. It is hoped that this conference will, after 20 years of negotiations, create the first binding and universal agreement on climate change.
(…)
Read the rest of Compromises Lead to Climate Change Deal (977 words)
---
© mwill for Universe Today, 2014. |
Permalink |
No comment |

Post tags: 1 Gigaton Coalition, 2014 Climate Change Conference, 2015 Climate Change Conference, 2015 Paris Conference, carbon emissions, Climate Change, Kyoto Protocol, <a target="_blank" href="http://www.universetoday.com/tag/lima-conference/" —> Read More Here