Congress Should Declare Mice Are Animals — Now!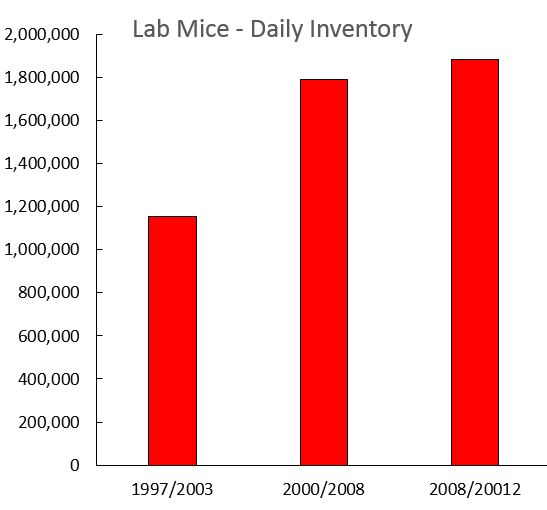 In 2002, North Carolina senator Jesse Helms slipped language into a normally mundane farm bill stipulating that rats, mice and birds are not actually animals. Helms was kowtowing to the wishes of Big Pharma and some major research universities. As a result of this taxonomic rope-a-dope, today most non-human creatures housed in American biomedical research facilities are exempt from coverage under the primary federal animal protection legislation — the Animal Welfare Act. (For a history of the Animal Welfare Act, see here.)
Because rats, mice and birds are not animals, their numbers are not included in the annual animal-use reports research institutions are required to submit to the Feds each year. As a result, we have had no idea how many animals are used in research in the United States. Until now.
Enter PETA.
Even in animal protection circles, People for the Ethical Treatment of Animals is controversial. But whether or not you like PETA, it has been a major force in changing public attitudes about the use of animals. I have a background in animal research, and I disagree with PETA on many issues, including their call for the elimination of animal experimentation. But, in my view, the organization deserves kudos for a recent study it conducted on trends in the use research animals. The results are eye-opening.
Unlike the Animal Welfare Act, the National Institutes of Health does require that institutions receiving NIH funds file periodic reports on the numbers of ALL vertebrate species involved in research. (In addition to rats, mice and birds, these include fish, amphibians and reptiles.) A group of PETA staffers used the Freedom of Information Act and state open-records laws to access these unpublished reports from institutions representing the top 25 largest recipients of NIH funds. Among the universities were Yale, Johns Hopkins, the —> Read More