Conversationists Look to 'Blue Carbon' to Help Ease Global Warming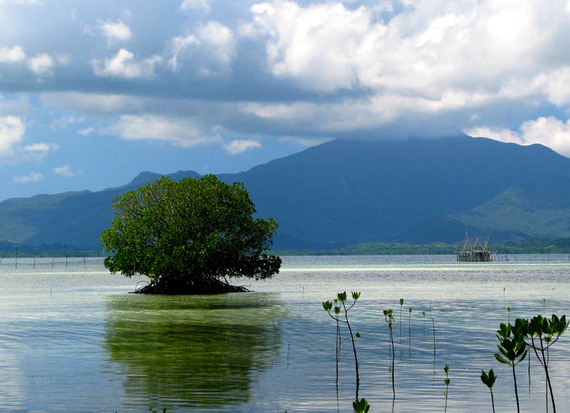 A solitary mangrove on Pandan Island in Palawan, Philippines. (Creative Commons)
When subsistence fishermen on the island of Chira couldn't find clams in Costa Rica's lush Gulf of Nicoya, they dug deep into the mangrove forests where the small shellfish liked to hide.
Women on the island soon realized the fishermen were actually hacking away at their own livelihoods, says Emily Pidgeon of Conservation International, with fewer species of fish, rays and other animals returning each year.
So the women founded the Chira Island Women's Collective in part to protect the threatened mangrove forests. They warn that the plants do much more to sustain the town of Palito than anyone knew when they began pulling up their roots.
Around the world, coastal communities and environmental groups alike are learning a similar lesson, and global environmental organizations like Pidgeon's are taking note. Preserving waterlogged resources like mangroves, wetlands and seagrasses doesn't just nourish local communities–they also capture and store a surprising amount of carbon that might otherwise contribute to global warming. Scientists call it "blue carbon."
"A lot of attention has quite rightly been put on forests, but we need all solutions from all parts of nature," says Dorothée Herr, who works on coastal ecosystems with the International Union for Conservation of Nature. That's not always an easy pitch, Herr says, because people want to live on the coastline. "There's a lot of pressure on these ecosystems."
As much as half of the world's mangrove habitat has disappeared over the last century, much of it destroyed by fish and shrimp farms, as well as seaside real estate developments. That's a big mistake, says Herr, because while these aquatic woodlands make up less than one percent of the world's tropical forests by land area, their destruction accounts for as much as 10 percent of emissions from —> Read More