Could Mercury Get A Meteor Shower From Comet Encke?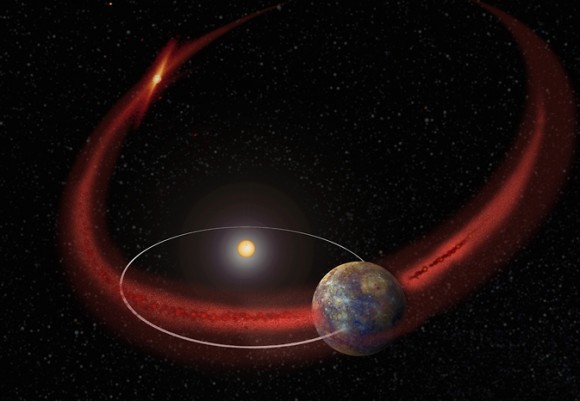 Artist's concept of the planet Mercury orbiting through a debris trail from Comet Encke that may cause a meteor shower. Credit: NASA's Goddard Space Flight Center
We're sure going to miss the MESSENGER spacecraft at Mercury when it concludes its mission in 2015, because it keeps bringing us really unexpected news about the Sun's closest planet. Here's the latest: Mercury may get a periodic meteor shower when it passes through the debris trail of Comet Encke.
Why do scientists suspect this? It's not from patiently watching for shooting stars. Instead, they believe the signature of calcium in Mercury's tenuous atmosphere may be pointing to a pattern.
(…)
Read the rest of Could Mercury Get A Meteor Shower From Comet Encke? (273 words)
---
© Elizabeth Howell for Universe Today, 2014. |
Permalink |
No comment |

Post tags: Comet Encke, MESSENGER

Feed enhanced by Better Feed from Ozh