Curiosity Rover Data Indicates Gale Crater Mountain Used to be a Lake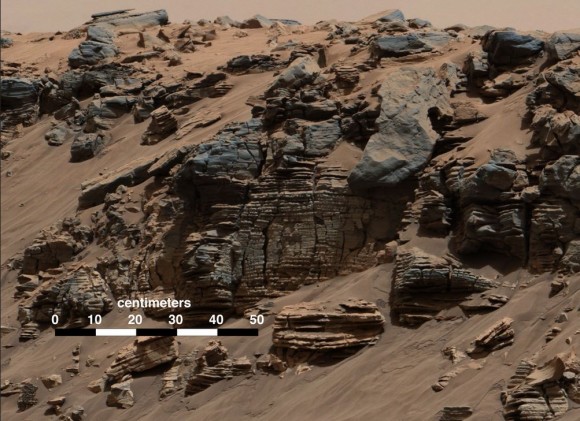 This evenly layered rock photographed by the Mast Camera (Mastcam) on NASA's Curiosity Mars Rover on Aug. 7, 2014, shows a pattern typical of a lake-floor sedimentary deposit not far from where flowing water entered a lake. Credit: NASA/JPL-Caltech/MSSS.
What is now a mountain, was once a lake. That's the conclusion of the Curiosity Mars rover science team after studying data and imagery from the rover, which indicates that the mountain the rover is now climbing in Gale Crater – Aeolis Mons, or Mount Sharp — was built by sediments deposited in a large lake bed over tens of millions of years.
"Gale Crater had a large lake at the bottom — perhaps even a series of lakes," said Michael Meyer, lead scientist for NASA's Mars Exploration Program during a press briefing on Monday, "that may have been big enough to last millions of years."
(…)
Read the rest of Curiosity Rover Data Indicates Gale Crater Mountain Used to be a Lake (860 words)
---
© nancy for Universe Today, 2014. |
Permalink |
No comment |

Post tags: Curiosity Rover, Mars, Mars Science Laboratory (MSL) Curiosity Rover

Feed enhanced by Better Feed from Ozh