Do You See a Mountain or a Crater in This Picture?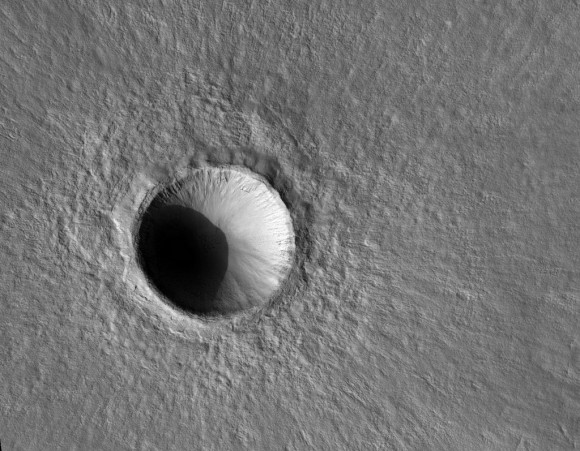 A fresh 1-km wide crater on Mars, captured by the HiRISE camera on the Mar Reconnaissance Orbiter. Or does it look like a mountain to you? Credit: NASA/JPL/University of Arizona.
Yesterday, we posted an image taken by the HiRISE camera on the Mars Reconnaissance Orbiter (MRO) of an unusual crater formed by a triple-asteroid. We noticed some comments on the article and on social media of people who say, "hey, that looks like a mountain, not a crater!"
Thanks to our brains, this is a common illusion! Depending on the angle of the Sun when the picture was taken, images of craters taken from overhead (i.e. from orbit) may appear to be a mountain. Here on Earth, we're used to seeing sunlight coming from overhead, and our brain interprets what we see with the assumption that the sunlight *must* always come from above. Satellite photos of terrain, however usually only show shadows when the light source is nearly horizontal with the surface.
There's an easy fix for this illusion: flip the image over so it appears the sunlight is coming from above. We've done that for you, below:
(…)
Read the rest of Do You See a Mountain or a —> Read More Here