Doctor Cured Of Ebola: When We Fear Aid Workers, 'We Lose Our Sense Of Compassion'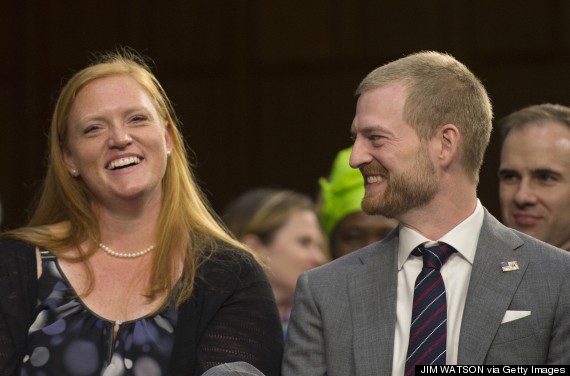 Dr. Kent Brantly, the 33-year-old U.S. doctor who survived Ebola, was driving through the middle of Kentucky when The Huffington Post caught up with him over the phone. Brantly, who was infected with Ebola while working as a missionary doctor in Liberia, was on his way to the Global Missions Health Conference to share his experience with Ebola and encourage young medical students aspiring to become medical missionaries. He spoke with HuffPost about his time in Liberia, what it was like to treat children with Ebola and why he's so passionate about fighting disease stigma in the U.S.
Before Ebola came to Liberia, what type of medical work were you doing there?
I was practicing full-spectrum family medicine at the hospital, seeing patients at the clinic and the office. I was delivering babies, doing c-sections, and taking care of babies and children and adults and old people — whatever was needed. I was a part of the team doing that.
Dr. Kent Brantly and his wife Amber at a hearing on Ebola in West Africa on Capitol Hill in Washington, DC, in September. (JIM WATSON/AFP/Getty Images)
You've talked in other interviews about the psychological darkness you faced when you were struggling with —> Read More Here