Eddie Redmayne In 'The Theory Of Everything' Puts A Face To ALS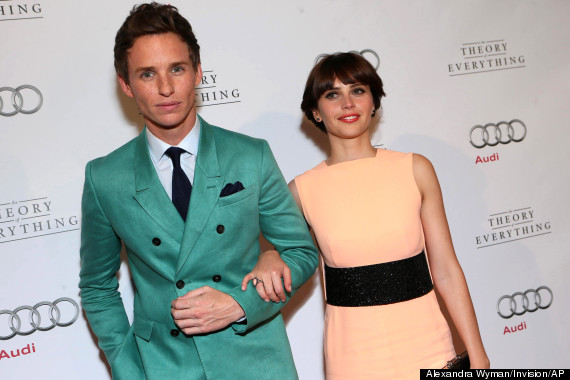 Eddie Redmayne, playing a young Stephen Hawking, tries to explain to his Cambridge classmate that he's just been diagnosed with ALS. "I have motor neurone disease," Hawking tells his friend, using its British name. The other young man's face doesn't change. Hawking might as well have the stomach flu. "You know, the American baseball player, Lou Gehrig?" Hawking asks, grasping at straws.
Redmayne's performance in "The Theory of Everything," the new film about the famed theoretical physicist, cosmologist and author, just might win him an Oscar. In large part, his acting is remarkable for its realistic portrayal of ALS, or amyotrophic lateral sclerosis, a terminal disease that causes a person's muscles to atrophy. The disease has no cure, and its causes aren't understood.
The illness came into the spotlight recently, when the sensational Ice Bucket Challenge led to a surge of more than $100 million in donations to the ALS Association. (Redmayne took the challenge in August with pal Jamie Dornan.) As a result, more people now recognize the illness than ever before, but that doesn't mean they know what it looks like. Redmayne's portrayal can be stingingly painful to watch for —> Read More Here