Eight Great Popular Science Books From 2014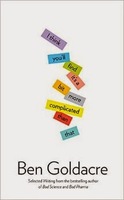 I can't claim that these are the absolute best popular science books of the year. All that I can do here is to look at the books I reviewed for popularscience.co.uk in 2014 (with the addition one guest title). Any "best of" list has to operate within the subset provided for selection, and this is no different. But I have no hesitation in saying they are amongst the best.
Looking back over 2014, we had a middling year — not disastrous, but not one that was packed with stand-out, must-read titles. Even so, there are a good few to choose from to add to any respectable popular science collection.
I'll start with a touch of meta-science. Ben Goldacre's chunky I Think You'll Find It's A Bit More Complicated Than That brings together a whole range of articles written by this crusading British medical doctor and journalist on bad science, poor media handling of scientific stories, quacks, fakes and more. It's an essential for anyone trying to negotiate the minefield of the way that science is presented to the public. I usually detest really long books, but this 474-page giant flew by. Because it is a collection of articles —> Read More Here