Ellie Davies' NASA-Inspired Photo Series Captures The Everyday Beauty of Starry Nights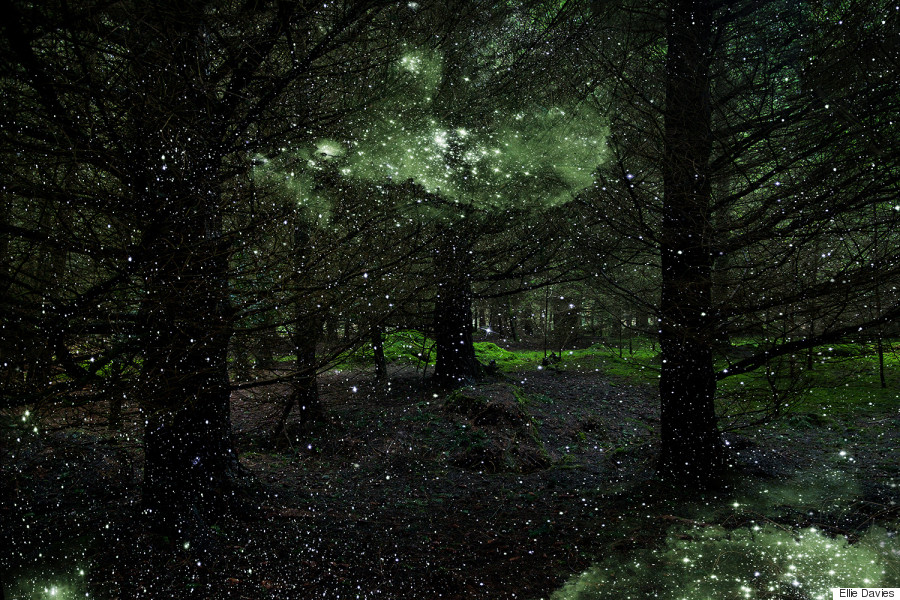 Ellie Davies grew up in an ancient forest in England — the sort of place where fairy tales, both dark and whimsical, are set. So she understands firsthand that woodlands can exude a magical aura difficult to capture with the stark reality of a photograph.
"We enter the forest laden with cultural reference points from fairy tales, history, myth and folklore," she told The Huffington Post. Which is why she graces her images with starry skies captured by NASA. The result? A glistening, fantastical-looking scene composed entirely of natural elements.
"I think some images in the series are [...] brooding and dark, some are uplifting or unnerving," Davies said. A brief chat with the artist revealed more:
What inspired your "Stars" series?
I grew up in the New Forest, an ancient forest in the south of England. It was originally seized by William I in about 1079 in order to create a deer hunting forest and it is now preserved as a National Park. I spent a huge amount of my childhood playing in the forest with my twin sister, building dens and making dams in the forest streams, learning to forage for wild mushrooms and plants, cycling and walking with our parents. The forest was a very important part of my life, but I live in London and it is so easy to become caught up in an urban environment, losing your connection with wild places and finding them alien when you return. I use the woods like a studio space. They provide a scene, or a backdrop into which I carry out small interventions which lead the viewer inside. The process of making, constructing or inscribing within the forest space allows me to mediate my own relationship to the woods.
The "Stars" series is inspired —> Read More