Elon Musk's Hyperloop Could Be Just 10 Years Away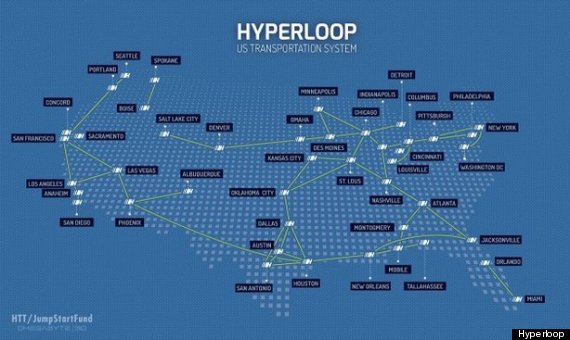 Hyperloop, the ultra-fast tube transport dreamed up by SpaceX founder and Tesla Motors CEO Elon Musk, could be ready for passengers in as few as 10 years.
In a 76-page report released on Dropbox on Thursday, a new startup called Hyperloop Transportation Technologies laid out plans for building Musk's futuristic transportation system, which could cut travel time between Los Angeles and San Francisco down to 35 minutes. The trip takes between three and four hours by Amtrak train, and more than six hours by car.
The system would carry passengers in pods moving as fast as 800 miles per hour, according to the white paper. The plan laid out by Musk — who has no involvement in the project, and did not help with the paper — has broadened beyond the two California metropoles. Hyperloop Transportation has drawn up maps with lines connecting every major U.S. city.
Housed within a newly-launched crowd-funding company called JumpStartFund, the startup offered wildly varying estimates for the cost of the project — anywhere between $7 billion and $19 billion.
Hyperloop CEO Dirk Ahlborn told The Huffington Post that the wide potential price range is due to the unpredictability of prices for materials and other —> Read More Here