Ending HIV Transmission: What Babies Have Taught Us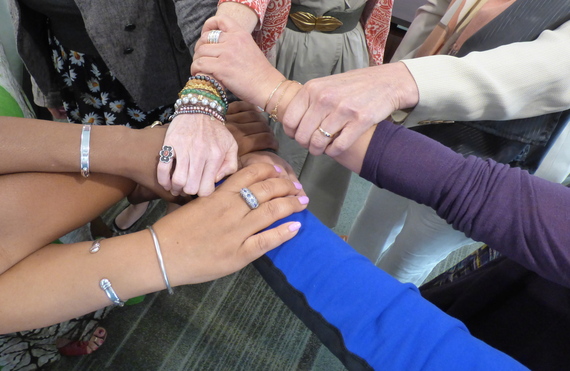 Co-authored by Robert Grant
Members of CDC's Elimination of Mother to Child Transmission of HIV Stakeholder's hold hands as a message of collaboration and solidarity.
Recent advances in HIV science have brought a new bold possibility: Ending sexual HIV transmission. Both the city of San Francisco and New York State have launched ambitious "Getting to Zero" and "Ending HIV" initiatives that have served as cornerstones goals to significantly reduce HIV transmission. Other cities and states are discussing their own local initiatives. Success toward ending all HIV transmission is possible if we put recent discoveries to work on a massive scale. Why do we think this is possible? In a new article published in the Journal of the Association of Nurses in AIDS Care, we suggest how lessons learned from preventing HIV infection in babies show us the way.
Celebrating success, toward new possibility. In 1991, during the peak of the HIV/AIDS epidemic, 1650 babies were born with HIV in the United States. By 2010, that number had declined to 162. This 90% reduction in HIV transmissions to infants is one of the greatest public health success stories in recent history, made possible by advances in HIV medications, which provide treatment for the mother and prevention for her infant. Though the numbers of women living with HIV who give birth each year continue to rise, the numbers of infants born with HIV continue to decline. Vital work remains to maintain these successes and achieve the elimination pediatric HIV infections. What have years of reducing HIV transmissions to infants taught us about ending all HIV transmission?
Whole people with sexual and reproductive desires. Today, 50,000 new HIV infections occur each year in the U.S. – —> Read More