Europa Life: Could 'Extreme Shrimp' Point To Microbes On That Moon?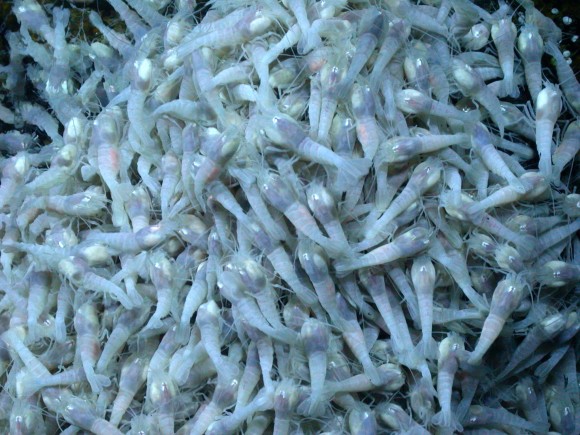 This is a type of shrimp that lives in hydrothermal vents (areas of hot water) in the Caribbean. NASA is studying Rimicaris hybisae and other "extreme shrimp" to learn more about lifeforms that could survive on other worlds. Credit: Chris German, WHOI/NSF, NASA/ROV Jason C: 2012 Woods
For all of the talk about aliens that we see in science fiction, the reality is in our Solar System, any extraterrestrial life is likely to be microbial. The lucky thing for us is there are an abundance of places that we can search for them — not least Europa, an icy moon of Jupiter believed to harbor a global ocean and that NASA wants to visit fairly soon. What lurks in those waters?
To gain a better understanding of the extremes of life, scientists regularly look at bacteria and other lifeforms here on Earth that can make their living in hazardous spots. One recent line of research involves shrimp that live in almost the same area as bacteria that survive in vents of up to 750 degrees Fahrenheit (400 degrees Celsius) — way beyond the boiling point, but still hospitable to life.
(…)
Read the rest of Europa Life: Could 'Extreme Shrimp' Point —> Read More Here