#FabienCousteau, the Modern Aquaman and Entrepreneurial Explorer of the Seas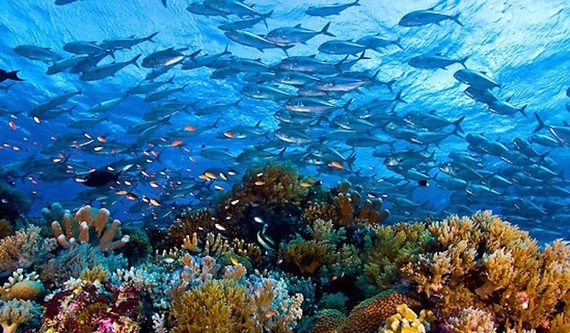 The Tubbataha Reefs Natural Park is a protected area of the Philippines, and declared by UNESCO in 2003 as World Heritage Site is an excellent example of a pristine coral reef with a spectacular 100-meter perpendicular wall, extensive lagoons and two coral islands

Photo credit: philippinesfinest.ph
I had been an advocate of saving the oceans for so long and throughout this journey I have created a lot of relationships with celebrities and have rubbed elbows with a number of famous people. Fabien Cousteau is one of them. He is the grandson of the legendary French oceanographic explorer #JacquesCousteau. When Fabien was about 6 or 7, he saw the movie "Jaws" for the first time. It was a movie he was forbidden to watch by his parents. That's when Fabien's passion for saving the sharks started. He was not scared of the movie, but he was horrified with the gross misconceptions we had about #sharks, and set out to give them justice. Fabien had the same cosmic message as his famous grandfather: "Save the planet, oceans first".
Fabien Cousteau with his 14 ft long, 1000 lb Shark submarine


Photo credit: news.nationalgeographic.com
For his first solo expedition in 2002, Fabien filmed sharks for a National Geographic special entitled "Attacks of the Mystery Shark". In the same year, he established an online conservation organization, and also worked on a children's book. As a tribute to his famous grandfather, Fabien was underwater for a total of 31 days in Aquarius where he beat his grandfather's record of 30. In 2010, he started Plant A Fish, a nonprofit organization focused on the empowerment of children and communities, and enabling them to do their part in restoring local water ecosystems through "replanting" the vital oceanic species.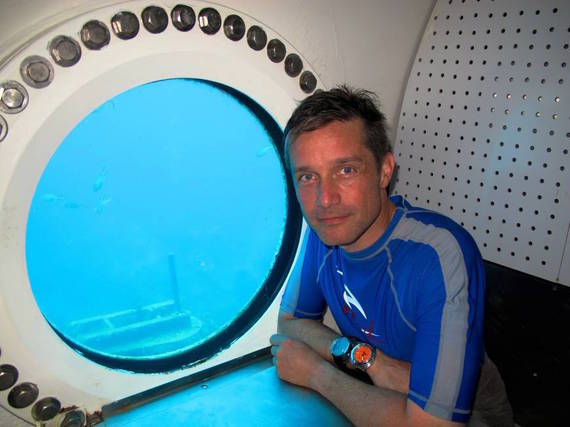 Fabien Cousteau stayed in Aquarius —> Read More