First Hubble and Now Dawn Have Seen This White Spot on Ceres. What is it?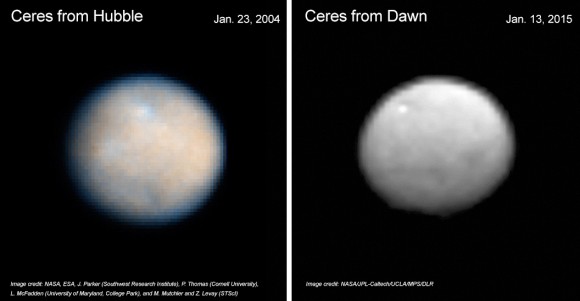 Comparison of HST and Dawn FC images of Ceres taken nearly 11 years apart. Credit: NASA.
There's a big white spot on Ceres and we don't know what it is. We've known about the white spot since the Hubble Space Telescope first captured images of it in 2003 and 2004, and in subsequent images taken by Hubble, the spot remains visible. Now, in images released yesterday from the Dawn spacecraft, currently on approach to Ceres, the spot remains. In the animated image, below, the spot almost seems to glint in the sunlight.
What is it?
(…)
Read the rest of First Hubble and Now Dawn Have Seen This White Spot on Ceres. What is it? (664 words)
---
© nancy for Universe Today, 2015. |
Permalink |
2 comments |

Post tags: ceres, Dawn mission, dwarf planet

Feed enhanced by Better Feed from Ozh