Fly Me to the Moon: The Public and NASA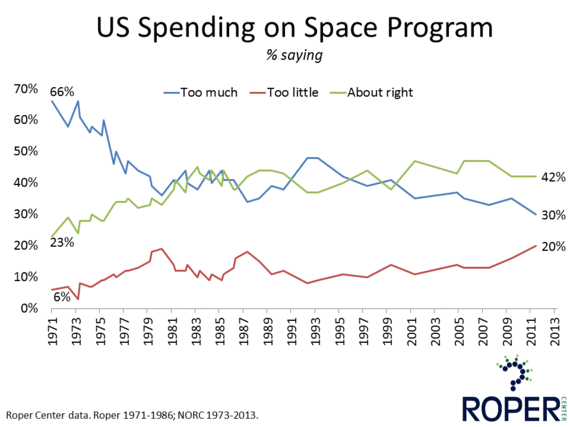 On March 3, 1915, the U.S. government established the National Advisory Committee for Aeronautics, or NACA. In 1958, NACA became NASA. In polls the American public has shown pride in the country's accomplishments in space exploration, along with concern about the costs involved. A review of public attitudes about the space program, from the Roper Center for Public Opinion Research archives:
Satellite of love (mostly)

There's no question that Americans take pride in the country's space ventures. When asked to say in their own words what America's greatest achievement was in the 20th century, 17 percent of respondents in a 2006 Research!America poll said the space program, the highest percentage of all answers. The public also recognizes the importance of specific accomplishments, like the landing of the Mars rover, seen as a major achievement by 72 percent of the public in a 2012 CNN/ORC poll.
But the public was not so certain about the value of the space program in its early days. In a 1967 Harris poll, 54 percent said the $4 billion price tag on putting a man on the moon and exploring other planets wasn't worth it; only a third thought it was. Fifty-seven percent in a 1965 Harris —> Read More Here