Fossils May Belong To New Primitive Human Species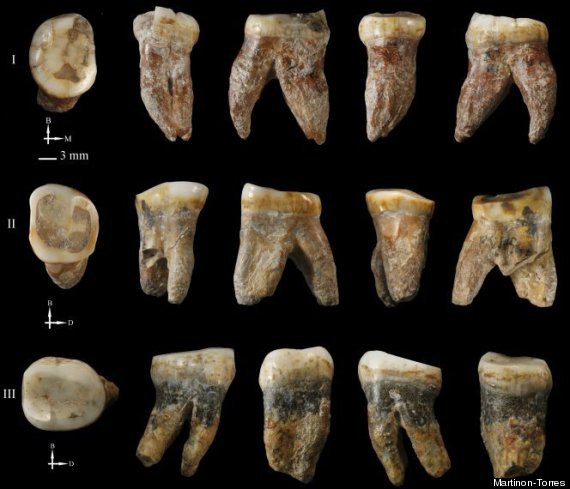 Have scientists discovered a new species of primitive human?
Two teams of researchers have been asking that very question after analyzing mysterious fossils found in China and Taiwan. The fossils don't seem to fit with any known hominin species–including modern humans, Homo erectus or Neanderthals. Instead, they may be the result of interbreeding between known species, or perhaps even belong to an unknown human species.
"Classically, everything that inhabited Asia before the arrival of modern humans have been classified into a single taxon: H. erectus," Dr. María Martinón-Torres, a dental anthropologist at Spain's National Research Center on Human Evolution (CENIEH) and a researcher involved in one of the studies, told The Huffington Post in an email. "However, we now see that we may have put in the same box things that are different… It may be time to revise that."
(Story continues below photo.)
The nine teeth examined while studying fossils of unidentified hominins.
For the research, Martinón-Torres and her colleagues analyzed nine teeth from four individuals, which were unearthed in a cave at Northern China's Xujiayao site in 1976. The teeth, which date back 60,000 to 120,000 years, were compared to more than 5,000 dental samples taken —> Read More Here