Geminid Meteor Shower Of 2014: How To Watch The Year's Best Sky Show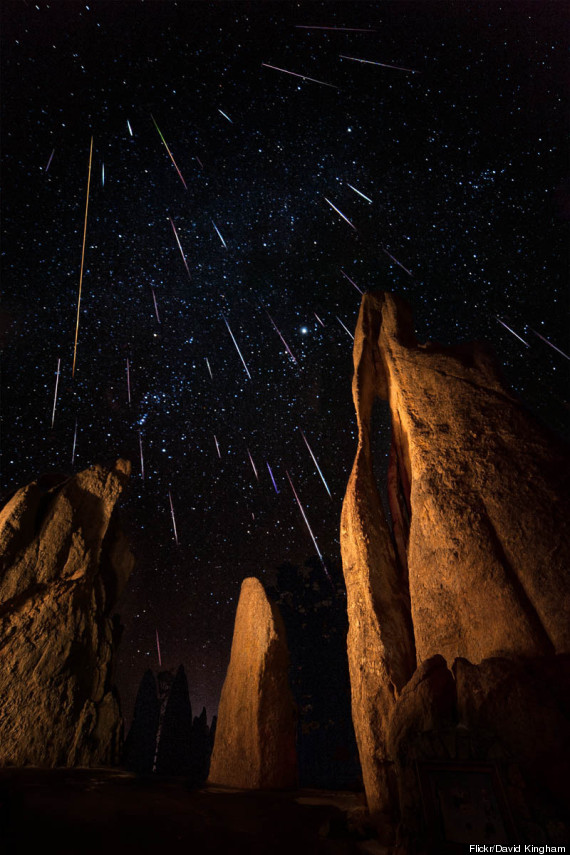 Listen up, skywatchers. What's expected to be the year's best meteor shower is set to light up the skies this weekend.
The 2014 Geminid meteor shower will peak overnight on Saturday, Dec. 13 through Sunday, Dec.14. If the sky is dark and clear, viewers in the Northern Hemisphere may be treated to as many as 120 meteors per hour starting around 9 p.m. local time until dawn.
The meteors–small pieces of debris from an asteroid named 3200 Phaethon–should also be visible on Friday and Sunday nights.
(Story continues below image.)
Geminids captured in December, 2012 in South Dakota. (Flickr/David Kingham)
No special equipment to catch the meteors is needed. Just find a spot with an unobstructed view of the sky and no glaring lights nearby.
"Go out late in the evening, lie back in a reclining lawn chair, and gaze up into the stars," Sky & Telescope's senior editor, Alan MacRobert, wrote in the magazine. "Relax, be patient, and let your eyes adapt to the darkness."
NASA says Saturday's celestial show will be particularly good for youngsters, as the best time for viewing will be in the first half of the night, before the <a target="_blank" —> Read More Here