Graphic Video Of Annual Canadian Seal Hunt Released By Animal Rights Group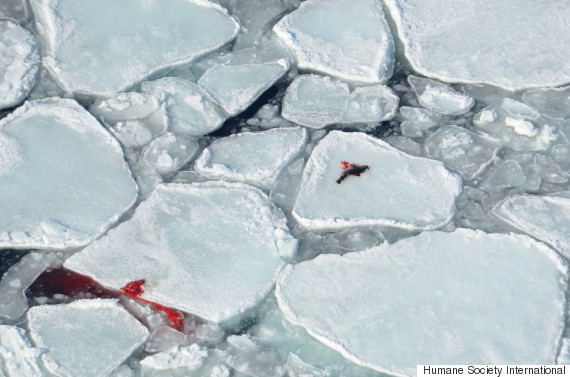 WARNING: This post contains graphic content that may upset some readers.
The Canadian government in early March announced this year's quota for its annual, and highly controversial, seal hunt. The allocation for 2015? 468,000 harp, hooded and grey seals.
In an effort to minimize inhumane treatment, the Canadian government mandates that seals can only be killed using a high-powered rifle or shotgun, a club or a hunting tool called a hakapik. Yet with the hunt in full swing, last week Humane Society International released shocking footage of baby seals being shot, clubbed and dragged aboard hunting vessels.
Rebecca Aldworth, executive director of HSI's Canada chapter, told The Huffington Post that despite the legal protections, "what happens to these baby seals is some of the worst suffering I've ever witnessed." She spent last week in a helicopter off the northeast coast of Newfoundland getting a firsthand look at the seal hunt — her 17th year doing so.
"Ever year we go out there, we see the same kind of cruelty," Aldworth said. "The seal is moving on the ice, the ice is moving on the ocean and the boat is rocking on the waves, so you often see a seal that's just wounded because it's incredibly difficult to make that shot."
The hunt takes place in northeastern Canada between November and June, with the majority of the seal hunting happening in March and April. The animals are killed mainly for their furs, and young harp seals tend to be in the highest demand because they have the most valuable pelts.
The Canadian government maintains that safeguards are in place to ensure animals are killed quickly and humanely. When asked about the scientific rationale for the hunt, a spokesperson for —> Read More