Greedo Fish Is A New Species Of Catfish; And Yes, It's Been Named After A 'Star Wars' Character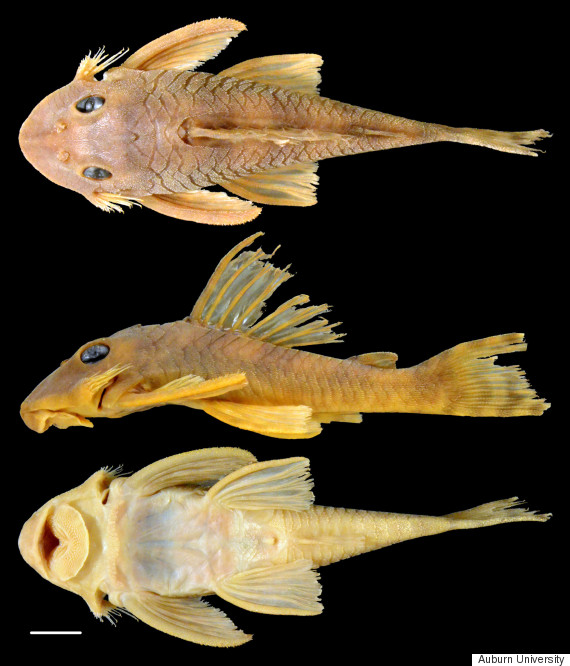 Meet Peckoltia greedoi, a newly-named species of suckermouth armored catfish. And if its name calls to mind a character from a galaxy far, far away — well, that's the point.
The fish was named for Greedo, the bounty hunter killed by Han Solo in "Star Wars: Episode IV A New Hope."
Jonathan Armbruster, biological sciences professor and curator of fishes for the Auburn University Museum of Natural History, said he was trying to name the fish when his colleague, arachnologist Chris Hamilton, said it looked a little familiar.
"Chris looked at the specimen and said 'that looks like that guy from Star Wars,'" Armbruster said in a university news release. "After a little prodding, I realized he was talking about Greedo. We then knew what the name had to be. The Peckoltia greedoi does bear a striking resemblance to Greedo."
Story continues below image.
Armbruster has named more than 40 species of fish, including Peckoltia greedoi, which was found along the Gurupi River in Brazil in 1998. But taxonomy is not as easy as looking at a fish and trying to figure out who or what it might resemble.
In many cases, it can be a challenge just figuring out if it really is a new species that needs a new name.
"Taxonomy is kind of a difficult science because if you look at the group that we're talking about here there are over 800 species described, so you have to know what are the described ones to be able to figure out what are the undescribed ones," Armbruster said in a video report (above).
The fish are measured and examined to see what makes it different from the ones that have been named before, he said.
What makes Peckoltia greedoi unique from —> Read More