Guess Who Discovered Gustave Whitehead…(It Wasn't Stella Randolph)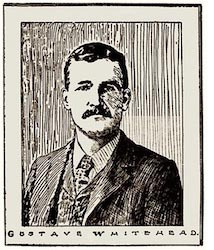 For the past two years, an old storm has raged yet again within the aviation community, as advocates for Gustave Whitehead (born "Gustav Weisskopf" – a Bavarian immigrant who settled in Bridgeport, Connecticut, in 1900) have relentlessly and aggressively pressed their case that Whitehead flew in 1901, prior to Wilbur and Orville Wright's flights in December of 1903.
Stella Randolph & Gustave Whitehead
In January 1935, Popular Aviation published the article "Did Whitehead Precede Wright In World's First Powered Flight?" by Stella Randolph and Harvey Phillips, plucking Whitehead from an obscure corner of forgotten history and making his name known to the general public.
In 1937, Randolph's book Lost Flights Of Gustave Whitehead presented the evidence she'd gathered, including affidavits, that Whitehead had flown in 1901. It was a neat and tidy little book that put forth in reasonably convincing fashion the notion that Gustave Whitehead had flown a heavier-than-air, powered, controlled machine of his own construction in 1901. Ms. Randolph and her sister, Clara, found and interviewed people who had known Whitehead and/or had stated they'd been present 30+ years earlier when one or more of his supposed "flights" had taken place, and she included reproductions of 13 "eyewitness" affidavits in her book.
Stella Randolph said that she first heard about Gustave Whitehead when her friend Harvey Phillips (whom she called the "The Phillips Aeronautic Library") told her of a letter by Whitehead published in the April 1, 1901, American Inventor and urged Randolph to pursue the matter.
It was a simple tale of how she discovered Whitehead, but it wasn't the whole story.
Stella Randolph & Albert F. Zahm
Randolph looked askance at John Crane's approaches to her because of his association with Albert F. Zahm, then head of the Library of Congress Aeronautics Branch. Crane was an associate professor —> Read More