Guest Post: Spaceflight is on the Verge of a Revolution, but don't Count your Rockets Before they Land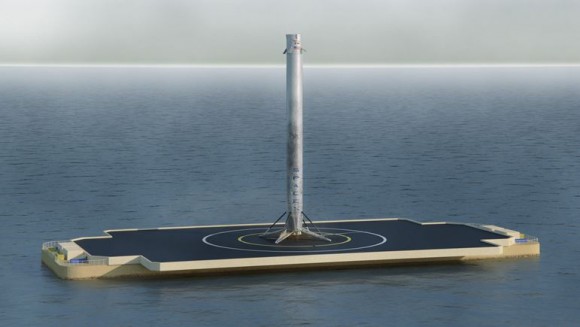 One of the possible outcomes of today. Falcon 9 sits on the barge, ready to go back home. Image Credit: Reddit user zlsa (zlsa.github.io) CC-BY-SA.
Editor's note: This guest post was written by Lukas Davia & Marijn Achternaam.

Typing "reusable rockets" into a search engine, you can't help but be drawn to the allure of SpaceX-related links which subjugate the screen. In fact, the corporate brainchild of Elon Musk dominates the first few pages of results near-exclusively. The reason for this is understandable: with the death of the Space Shuttle and lack of clear planning for the future by most old players in the spaceflight field, SpaceX's straightforward, near term plan and previous flight tests make them everyone's favorite to drastically reduce cost to orbit with rockets which return home – ready to be reused.
And with the upcoming launch of SpaceX's 14th Falcon 9 rocket on January 6 carrying Dragon to the ISS, the potential for true rocket reusability is certainly within reach for the first time ever in the near 90 years since Goddard launched the world's first liquid fueled rocket from Massachusetts in 1926. Yet, now is a more important time than ever to temper our wild expectations for the —> Read More Here